Michael Robbins to Discuss His New Book of Poetry via Zoom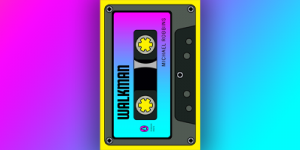 Michael Robbins, author of WALKMAN (Penguin Books), will discuss his new collection of poetry with Paige Ackerson-Kiely at a virtual event hosted by Literati Bookstore (Ann Arbor, MI) as a part of their At Home Series via Zoom on Tuesday, June 22 at 7:00 pm (ET). 
In WALKMAN, Robbins turns a corner from his first two collections of poetry that echoed harsh protests from experiences in off-ramp America and takes a stance to confront nostalgia and self-pity in witty defiance to the state of our political and ecological moments. These new poems give the reader a sense that it's the end of the world and he's listened to all of the tapes in his backpack and that now he is making music from whatever he can find lying around.
Michael Robbins is the author of two previous poetry collections, Alien vs. Predator and The Second Sex, and Equipment for Living: On Poetry and Pop Music, a volume of essays. He currently lives in New Jersey where he is an associate professor of English at Montclair University.
!! As a reminder, if you are posting to a personal or other non-PRH account you must include the hashtag #TeamPRH !!
Posted: June 21, 2021