Five of Our Authors on TIME 100 List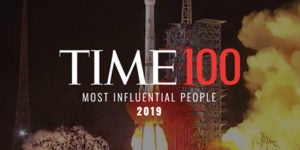 Five authors published by Penguin Random House are on the 16th annual TIME 100 Most Influential People List: Michelle Obama, among the Icons, as well as Marlon James, Samin Nosrat , Chrissy Teigen and Tara Westover, among the Pioneers.  The 2019 honorees were revealed late last week and are featured in TIME magazine's April 29 – May 6 double-issue print edition.  The TIME 100 gala takes place on Tuesday, April 23, in New York City.  
In this year's TIME 100 issue:
Michelle Obama is profiled by Beyoncé Knowles-Carter, who wrote, in part, "I'm honored to know such a brilliant black woman who's spoken about the sacrifice it takes to balance her passions while remaining a supportive partner and mother, and now a bestselling author with Becoming. She has continued to open herself up, even if it meant being criticized. She has continued to be a portrait of grace."
Marlon James is profiled by Salman Rushdie, who wrote, in part, "I met Marlon James when I interviewed him about A Brief History of Seven Killings at the New York Public Library, and he and his work both deeply impressed me … It won the Man Booker Prize and turned Marlon into one of the most important voices of his literary generation, a role he has gleefully embraced on social media and elsewhere, speaking out on race, literature, gay rights and whatever else is on his mind … Black Leopard, Red Wolf is the first volume of a promised trilogy, a fabulist reimagining of Africa, with inevitable echoes of Tolkien, George R.R. Martin and Black Panther, but highly original, its language surging with power, its imagination all-encompassing. Marlon is a writer who must be read."
Samin Nosrat is profiled by Alice Waters, who wrote, in part, "There is magic in the way Samin teaches. She wins you over immediately with an irresistible combination of warmth, honesty, deep understanding of cooking and that ebullient laugh of hers. If anyone can show us how to cook, it is Samin. So it's no surprise that her book Salt, Fat, Acid, Heat and her Netflix series are both so groundbreaking…. I love the passion and poise with which Samin delivers this message about food. Because in the end, it's a universal message, and it's one we have forgotten: that cooking is about care."
Chrissy Teigen is profiled by Eric Ripert, who wrote, in part: "In this world, there are only two things: good food and bad food. What Chrissy Teigen and I have in common is that we like good food. I first met Chrissy on the set of my show, On the Table. The idea was to interview the guest while we cooked a meal together. She was a riot. She was out-of-her-mind funny, and we had a blast … Her cookbooks are made for people to cook at home, but they're not something you just leave on the coffee table—they're recipes you want to make over and over again."
Tara Westover is profiled by Bill Gates, who wrote, in part, "If you haven't read Educated yet, chances are you know someone who has. Tara Westover's brilliant memoir has been on the best-seller list since its release, and for good reason. Her story of growing up in a Mormon survivalist home—and eventually escaping to earn a doctorate from Cambridge University—­is hard to put down … I'm glad Educated's success has given her a platform to use her voice. I look forward to reading—or seeing!—what comes next from her."
Congratulations to Mrs. Obama, Mr. James, Ms. Nosrat and Ms. Westover.
To view the complete TIME 100 Most Influential People 2019 list, click here.
Posted: April 22, 2019