"BECOMING: A Guided Journal for Discovering Your Voice," a Companion to Michelle Obama's Bestselling Memoir, to be Published November 19, 2019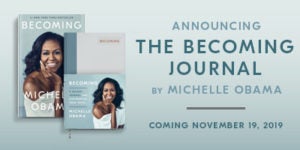 BECOMING: A Guided Journal for Discovering Your Voice, a companion to former U.S. First Lady Michelle Obama's critically acclaimed and internationally bestselling memoir, BECOMING, will be published in the U.S. and Canada on Tuesday, November 19, 2019, by Clarkson Potter, an imprint of Random House. A Spanish language edition titled BECOMING: Un Diario Guiado will be published by Plaza & Janes/Penguin Random House Grupo Editorial. The BECOMING journal will have a first printing of 500,000 copies.
Featuring an intimate introduction by Mrs. Obama, the BECOMING journal includes more than 150 inspiring questions and quotes that resonate with key themes in Mrs. Obama's memoir and that are designed to help readers reflect on their personal and family history, their goals, challenges, and dreams, what moves them and brings them hope, and what future they imagine for themselves and their community. Printed on cream writing paper, with a grosgrain ribbon and a foil-stamped cover and removable half-jacket, the journal has a suggested list price of $19.99 in the U.S. and $25.99 in Canada.
BECOMING: A Guided Journal for Discovering Your Voice will also be published globally this fall in more than 20 countries, including the United Kingdom, Australia, New Zealand, South Africa, India, Germany, France, Italy, the Netherlands, Spain, Portugal, Brazil, Sweden, Norway, Denmark, Finland, Poland, Taiwan, and China, with additional territories to be announced in due course.
In writing her memoir, Michelle Obama shared her own extraordinary journey to help create space for others to tell their stories and to give people the courage to discover the power of their own voice. With the journal, she now provides readers with the encouragement to find value in their own personal journeys of becoming.
Writes Mrs. Obama in the Introduction to the BECOMING journal, "I hope you'll use this journal to write down your experiences, thoughts, and feelings, in all their imperfections, and without judgment…. We don't have to remember everything. But everything we remember has value."
Since its publication on November 13, 2018, Mrs. Obama's memoir BECOMING has sold more than 11.5 million units worldwide across print, digital, and audio formats, including 7.5 million units in the U.S. and Canada alone, and has been published in 45 languages.
World publication rights for the BECOMING journal were acquired by Penguin Random House from the author's representatives, Robert B. Barnett and Deneen Howell of Williams & Connolly.
Posted: October 7, 2019