Michelle Obama's Innovative BECOMING Coast-To-Coast College Promotion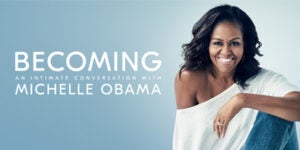 BECOMING, the memoir of former U.S. First Lady Michelle Obama, was published by Penguin Random House worldwide three years ago, but it continues to be in the news for its resonating impact with readers—this time, U.S. college students.
On Tuesday afternoon, November 9, Mrs.Obama will be in conversation with college students from across the country in a unique livestream event: BECOMING: Michelle Obama in Conversation. It will take place at Prince George's Community College in Largo, Maryland. Yara Shahidi, a producer, actress, and change maker known for her starring roles in the acclaimed television series "Black-ish" and "Grown-ish," and currently a student at Harvard University, will serve as moderator.
The event will be taped by BET to air at a later date as a television special.
Mrs. Obama said, "I can't wait to hear from students across our country as they navigate their studies during this unprecedented time." Recalling her own struggles as a "first-generation college student," she observed, "I just hope they realize that moments of self-doubt and fear are completely natural, but if we embrace these moments—if we own our stories and use our voices—we can share the very best parts of ourselves with the world."
The event underscores the first large-scale class adoption of the book by a state-wide school group. Along with organizing its sale to the colleges through the PRH Higher Ed Sales Account Manager team —Pamela Kumpar, Cheryl Westberg, Matt Makin and Chad Barton —Penguin Random House Education, with Crown, is donating 100 copies of the memoir to each of the dozen schools in the Maryland Community College Consortium.
"We are thrilled the former First Lady will be in unique conversation with college students—many of whom are "first gen"— for this special event," said KAZ Woods, Higher Education Sales Director, Penguin Random House Education. "What makes it even more outstanding is that in addition to being a common reading selection among students and faculty, "Becoming" also continues to be assigned at College and University campuses for standard course among numerous disciplines, such as English Language, Women's Studies, and Political Science courses. Her memoir truly resonates with students and faculty throughout the higher-education realm."
A Young Readers edition of BECOMING was published earlier this year, and to promote it to educators, Mrs. Obama will deliver the keynote address November 18 at the National Council of Teachers of English (NCTE) convention.
Posted: November 8, 2021