Mike Lupica Presents His New Sports Novel for Kids via Zoom (8/25)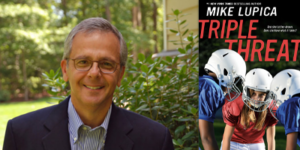 Mike Lupica will launch his latest sports novel for kids, TRIPLE THREAT (Philomel), at a virtual event hosted by RJ Julia Booksellers (Madison, CT) via Zoom on Tuesday, August 25 at 7:00pm (ET). 
TRIPLE THREAT is a timely story about a young girl who joins the boys football team.  Lupica expertly explores gender inequality in football with nonstop sports action.
When twelve-year-old Alex makes up her mind to join her middle school's football team, she doesn't expect it to be easy. But she also never anticipated she'd be met with scorn and derision from her exclusively male teammates. Football has always been a source of happiness for Alex. She and her single father never miss a Steelers game on TV, and Alex knows she has a talent for throwing the perfect spiral. But the guys suck the joy right out of the game for Alex–going out of their way to trip her up during tryouts, and teaming up against her just to watch her fail. Suddenly, Alex is the lowest she's ever felt. But if getting QB is worth it to her, she's going to have to fight for it.
Mike Lupica is a prominent sports journalist and the New York Times-bestselling author of more than forty works of fiction and nonfiction. A longtime friend to Robert B. Parker, he was selected by the Parker estate to continue the Sunny Randall and Jesse Stone series.
!! As a reminder, if you are posting to a personal or other non-PRH account you must include the hashtag #TeamPRH !! 
Posted: August 20, 2020