Mikki Kendall In Conversation with Ashley Finley via YouTube (2/25)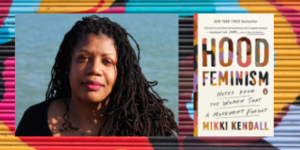 Mikki Kendall, author of HOOD FEMINISM: Notes from the Women That a Movement Forgot (Penguin Books), will be in conversation with activist Ashley Finley at a virtual event hosted by Weller Book Works (Salt Lake City, UT) via YouTube on Thursday, February 25 at 9:00 pm (ET).
In her searing collection of essays, Mikki Kendall takes aim at the legitimacy of the modern feminist movement, arguing that it has chronically failed to address the needs of all but a few women. Drawing on her own experiences with hunger, violence, and hypersexualization, along with incisive commentary on politics, pop culture, the stigma of mental health, and more, HOOD FEMINISM delivers an irrefutable indictment of a movement in flux. An unforgettable debut, Kendall has written a ferocious clarion call to all would-be feminists to live out the true mandate of the movement in thought and in deed.
Mikki Kendall is a New York Times bestselling writer, speaker, and blogger whose work has appeared in The Washington Post, The Boston Globe, The Guardian, Time, Salon, Ebony, Essence, and elsewhere. An accomplished public speaker, she has discussed race, feminism, violence in Chicago, tech, pop culture, and social media on Good Morning America, The Daily Show, MSNBC, NPR, Al Jazeera's The Listening Post, BBC's Woman's Hour, and Huff Post Live, as well as at universities across the country. In 2017, she was awarded Best Food Essay from the Association of Food Journalists for her essay on hot sauce, Jim Crow, and Beyoncé. She is also the author of Amazons, Abolitionists, and Activists: A Graphic History of Women's Fight for Their Rights and a co-editor of the Locus-nominated anthology Hidden Youth, as well as a part of the Hugo-nominated team of editors at Fireside Magazine. A veteran, she lives in Chicago with her family.
Ashley Finley is a California native who is currently living in so-called Salt Lake City. She is a black woman, a daughter, a sister, an auntie, a friend, a dog mom, a nature lover, a birth keeper, a medicine maker, a poet, an activist, and an educator. Her passion lies in the liberation of all colonized and oppressed people and in the facilitating of a return to sacred, ancestral knowledge that bloomed before colonization and capitalism.
!! As a reminder, if you are posting to a personal or other non-PRH account you must include the hashtag #TeamPRH !!
Posted: February 23, 2021