Milestone Spotlight: Dave Zimmer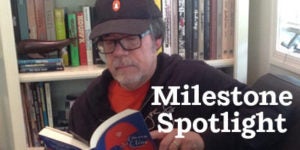 Milestone Spotlights feature an interview with a recent recipient of a Penguin Random House Milestone Award, which is given out to employees who have reached 5, 10, 15, 20, 25, 30, and more years of service with the company. The Employee Milestone Spotlight interview allows us to celebrate our colleagues' service by highlighting their successes within the company, and is a chance for them to share some fun and personal information about themselves.
This month, we shine the spotlight on Dave Zimmer, Manager, Corporate Communications. He celebrated his 15-year milestone earlier this year. Get the scoop on Dave by checking out his interview below:
What is your role at Penguin Random House?
As Penguin Random House's Corporate Communications Manager, my multi-faceted responsibilities cover a wide swath of writing, editing, and assorted other communications projects. My main beat is Igloo, our company intranet. You can usually find me at my desk, clacking away on the computer, writing articles, such as Three Questions for an Editor and Igloo Book Buzz, and covering company news and events, ranging from Company Week and BookExpo/BookCon to our Global Walk and major book launches. Creating content brings me in constant contact with departments all across the company, including editorial, publicity, marketing, sales, operations and our Gütersloh colleagues who run BENET, Bertelsmann's intranet. It's very rewarding to help keep our colleagues informed with timely news and in-depth features. In addition, I coordinate the company's participation in such industry events as PW Star Watch – this year Penguin Random House had seven honorees, including one finalist.
What is the most interesting job you've ever had?
Beyond the one I have now (always interesting, never a dull moment), it would be a tie between working in corporate communications for MCA/Universal and serving as editor of BAM: The California Magazine. Editing MCA News and Universal Magazine was fun, but what made my MCA/Universal job most interesting was regularly traversing the Universal Studios backlot (like the Emerald City, with a commissary, classic movie sets, and theme park) to conduct interviews with a slew of actors, directors and producers. At BAM magazine, based in the music publication's San Francisco and Hollywood offices, I got to really rock out with my writing. I interviewed and profiled the likes of Grace Slick, Tom Petty, Crosby, Stills & Nash, Neil Young, Fleetwood Mac, Rosanne Cash, and John Lee Hooker, among many others. An enduring memento of this time: my vast collection of backstage passes.
What is your favorite book of all time? What is your favorite book right now?
Pick one favorite book of all-time? That's a tough assignment. I have many favorites, but if compelled to choose just one it would be Lonesome Dove by Larry McMurtry. Reading and re-reading that book, I relish McMurtry's natural ability to create a rich cast of colorful characters and tell an epic saga of the American West with emotional depth across a wide landscape. McMurtry's gift for authentic dialog is one reason why the book was adapted so well into a majestic TV mini-series. As for my favorite book right now, that would be ASTROBALL: The New Way to Win It All by Ben Reiter. I'm a big baseball fan, and a life-long rooter for the San Francisco Giants, but I also just love the game. Reiter takes a deep dive into the modern-day analytical aspects of major league baseball – in some ways similar to what Michael Lewis did in Moneyball. But I like Reiter's book better because it's more focused; he takes readers inside every detail that led to the transformation of the Houston Astros from a losing, failing franchise into MLB's 2017 World Series Champions.
Where is your favorite place in NYC?
Greenwich Village. As a native Californian, and being a big fan of Bob Dylan, '60s folk-rock, and Beat writers (particularly Jack Kerouac, Allen Ginsberg and William Burroughs), I love roaming around the Village, exploring the ghosts of yesteryear in Washington Square (still filled with guitar buskers playing for spare change), Generation Records (a favorite since Bleecker Bob's closed in 2013), and Café Wa? (the legendary Macdougal Street club where Dylan, Jimi Hendrix and Ginsberg used to hang out). Magical historical traces and echoes are everywhere you turn.
What is the most exciting thing you have ever done?
Spending a whirlwind ten days on the road with rock group Crosby, Stills & Nash in November of 1982 tops my list. I had been a big fan of CSN's music for years and interviewed them for a number of magazine articles, which led to me landing a book deal with St. Martin's Press to write the band's authorized biography. Photographer Henry Diltz and I flew from Los Angeles to meet up with the band and crew in Chicago. I got to experience first-hand road life on a concert tour: long bus rides between shows (mostly on Stephen Stills' bus, and he was in constant motion – practicing his guitar, playing cards, jotting down lyric ideas in a spiral notebook), early-morning hotel check-ins (one time witnessing Stills sketch out a new song in his room after noodling around on his guitar for an hour); pre-show rehearsals (positioned near the sound board, with guitars and vocals soaring across an empty hall, as the house sound mixer/engineer fine-tuned the volume levels), the concerts (with a prime side-stage view of the musicians rolling through songs such as "Wooden Ships," "Teach Your Children" and "Suite: Judy Blue Eyes"), post-show backstage (Crosby and Nash would offer set and song critiques before the band greeted family, friends and fans backstage). All the while, my trusty tape recorder was rolling, the guys answering my binder filled with questions, their responses forming the heart of the manuscript for my CSN book, initially published in 1984, with a 2008 updated edition still in print.
Who is or has been one of the biggest influences in your life (professionally or personally)?
Dr. David Wilson, an English professor at the University of California, Davis, had the biggest influence on my formative pre-professional life. As a freshman English major, I asked him about things I could do to become a better writer. He told me, "Read books by the classic authors, read the Beat writers, read a range of storytellers, read Rolling Stone. Soak it all in. Then you will find your own writing voice." I took his advice, read the complete works by the likes of Hesse, Steinbeck, and Kerouac, subscribed to Rolling Stone, and combed through articles by such writers as Hunter S. Thompson, Ben Fong-Torres and Cameron Crowe (the latter two becoming friends). That served as the launching pad for my ongoing word-filled journey.
Posted: October 19, 2018