Miller Wins 2020 Dayton Literary Peace Prize for Nonfiction, Atwood Distinguished Achievement Award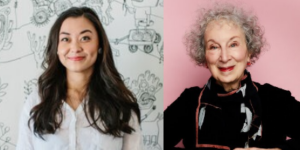 Winners of this year's Dayton Literary Peace Prize have been announced, with the nonfiction award going to Viking author Chanel Miller for her memoir, KNOW MY NAME, earning a $10,000 cash prize. Nan A. Talese/Doubleday author Margaret Atwood received the 2020 Ambassador Richard C. Holbrooke Distinguished Achievement Award, named in honor of the diplomat who helped negotiate the Dayton Peace Accords in 1995.
Our warm congratulations to Ms. Miller and Ms. Atwood.
To view all of the 2020 Dayton Literary Peace Prize winners, click here.
These awards are normally announced during a gala celebration in Dayton, Ohio, in early November, but this year's awards ceremony was postponed until June 27, 2021.
The Dayton Literary Peace Prize, inaugurated in 2006, is the first and only annual U.S. literary award recognizing the power of the written word to promote peace. The Dayton Literary Peace Prize invites nominations in adult fiction and nonfiction books published within the past year that have led readers to a better understanding of other cultures, peoples, religions, and political points of view.
Posted: November 18, 2020