Modern Library Publishes Second Edition of WILLIAM SHAKESPEARE COMPLETE WORKS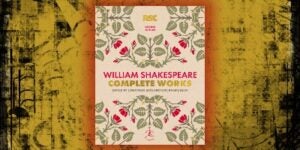 The Modern Library is excited to announce the publication of the Second Edition of WILLIAM SHAKESPEARE COMPLETE WORKS, edited by preeminent scholars Sir Jonathan Bate and Eric Rasmussen and developed in partnership with the Royal Shakespeare Company, the world-renowned ensemble theatre company in London and Stratford dedicated to bringing the works of Shakespeare and his contemporaries to a modern audience.
Based on the First Folio of 1623, the text of the plays that was assembled by Shakespeare's fellow-actors after his death, the COMPLETE WORKS, Second Edition, sets a new standard in Shakespearean literature. Combining superb introductory material and lively essays by Sir Jonathan Bate, unparalleled textual editing by Eric Rasmussen, incorporating insights from a brilliant team of younger generation Shakespearean scholars, and newly incorporating stage directions drawn from RSC productions and full color photos, this landmark edition provides a template for better understanding and staging these classic plays in the twenty-first century.
In his new Preface to the Second Edition, Bate makes the case that Shakespeare's plays continue to address the cultural diversity and unprecedented challenges of our current time—issues, among others, of autocracy and democracy, race, religion, gender identity, wealth, injustice, and even "fake news."
"Because Shakespeare wrote his plays for performance on the stage it's impossible to fully appreciate the depth of his genius solely on the page. The new Stage Notes feature documents the staging choices in 100 RSC productions alongside the text of the plays. Reading the plays through the lens of choices made by directors and actors at work helps clarify moments while also revealing the extraordinary ranges of meaning that are the hallmark of Shakespeare's art," commented Sir Jonathan Bate.
Posted: May 3, 2022