M&S & Knopf Author Omar El Akkad Wins Canada's 2021 Scotiabank Giller Prize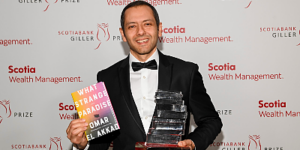 Penguin Random House Canada and Knopf are thrilled to celebrate their author Omar El Akkad, who is the winner of the 28th Scotiabank Giller Prize, Canada's most prestigious– and richest– literary award for fiction, for his novel WHAT STRANGE PARADISE The prize was awarded on Monday, November 8 at the Giller's annual gala black-tie ceremony, held in person at Toronto's Park Hyatt hotel for the first time since 2019, and broadcast across Canada on the CBC.
WHAT STRANGE PARADISE was edited by McClelland & Stewart's Jared Bland and Knopf's Tim O'Connell and John Freeman.
El Akkad's win marks the second year in a row that McClelland & Stewart has published the Giller Prize winner, following Souvankham Thammavongsa's win for HOW TO PRONOUNCE KNIFE in 2020, and the tenth time in the publisher's history that one of its authors has been crowned the victor.
Penguin Random House has now published four consecutive Giller Prize winners, also including Thammavongsa in 2020, Ian Williams in 2019 (Random House Canada), and Esi Edugyan (Knopf U.S.) in 2018. Penguin Random House Canada and its predecessor company authors have won the prize 21 times since its inception in 1994.
WHAT STRANGE PARADISE is the story of nine-year-old Amir, a Syrian boy who is the sole survivor of a shipwreck that has claimed the lives of a group of refugees desperate to escape untenable lives in their homelands. Making landfall on a small island, Amir has the good fortune to fall into the hands not of the officials but of Vanna, a teenage girl, who determines to do whatever it takes to save this young stranger with whom she has no common language.
Speaking at the ceremony, the author described his novel as an "inverted fairytale" that he has been working on for the better part of ten years; it is a story about "what it means to set sail in search of the most basic prerequisites of a life … and what it means to never land."
In its citation, the jury wrote, "Amid all the anger and confusion surrounding the global refugee crisis, Omar El Akkad's WHAT STRANGE PARADISE paints a portrait of displacement and belonging that is at once unflinching and tender. In examining the confluence of war, migration, and a sense of settlement, it raises questions of indifference and powerlessness and, ultimately, offers clues as to how we might reach out empathetically in a divided world."
El Akkad, who was announced the winner by last year's laureate Thammavongsa, paid tribute to his parents in accepting his award, calling it "by far the greatest honour of my career." He also profusely praised his M&S publishing team, led by Jared Bland.
The Scotiabank Giller Prize is Canada's richest literary award, carrying a purse of $100,000 to the winner and $10,000 to each of the finalists. WHAT STRANGE PARADISE is the second novel by El Akkad, an author and journalist whose first work of fiction, AMERICAN WAR (also published by McClelland & Stewart and Knopf U.S.), won the 2018 Kobo Emerging Writer Prize for fiction and other honors.
Also on the shortlist for this year's prize was Penguin Random House Canada author Miriam Toews for FIGHT NIGHT, edited by Lynn Henry and published by Knopf Canada; on the longlist were ASTRA by Cedar Bowers (McClelland & Stewart), EM by Kim Thúy and translated by Sheila Fischman (CA: Random House Canada, U.S.: Seven Stories Press, a PRHPS client publisher), and THE STRANGERS by Katherena Vermette (Hamish Hamilton Canada).
The Scotiabank Giller Prize highlights the very best fiction by Canadian authors published in English, both long format and short stories, published between October 1, 2020 and September 30, 2021.
Congratulations to our winning author and his Canada and U.S. publishing teams.
Posted: November 9, 2021