Murder By the Book Presents a Conversation with Sherry Thomas via Facebook Live (10/6)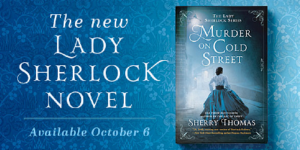 Sherry Thomas will speak about her new Lady Sherlock novel, MURDER ON COLD STREET (Berkley), at a Murder By the Book virtual event via Facebook Live on Tuesday, October 6 at 8:00 pm (ET).
Charlotte Holmes, Lady Sherlock, investigates a puzzling new murder case that implicates Scotland Yard inspector Robert Treadles in Thomas's bestselling series set in Victorian England.
Sherry Thomas burst onto the romance scene with Private Arrangements, one of the most anticipated debut historical romances in recent history and a Publishers Weekly Best of the Year book. Lisa Kleypas calls her "the most powerfully original historical romance author working today." Her books have received stellar reviews from Publishers Weekly, Library Journal, Chicago Tribune, and Romantic Times, along with enthusiastic praises from many of the most highly trafficked romance review websites and blogs.
Her story is all the more interesting given that English is Sherry's second language. She enjoys creating stories. And when she is not writing, she thinks about the zen and zaniness of her profession, plays computer games with her sons, and reads as many fabulous books as she can find.
!! As a reminder, if you are posting to a personal or other non-PRH account you must include the hashtag #TeamPRH !!
Posted: October 2, 2020