Murder By the Book Presents Eliza Jane Brazier and Stephanie Wrobel via YouTube and Facebook (1/28)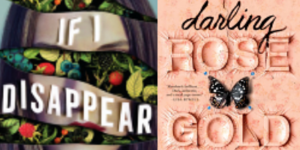 Eliza Jane Brazier will discuss her debut adult novel, IF I DISAPPEAR (Berkley), with Stephanie Wrobel, author of DARLING ROSE GOLD (Berkley), now out in paperback, at a virtual event hosted by Murder By the Book via YouTube and Facebook on Thursday, January 28 at 2:00 pm (ET).
In Brazier's IF I DISAPPEAR, when Sara's favorite true crime podcast host goes missing, an adrift young woman sets out to investigate and plunges headfirst into the wild backcountry of Northern California and her own dangerous obsession.
In Wrobel's DARLING ROSE GOLD, for the first eighteen years of her life, Rose Gold Watts believed she was seriously ill. She was allergic to everything, used a wheelchair and practically lived at the hospital. Neighbors did all they could, holding fundraisers and offering shoulders to cry on, but no matter how many doctors, tests, or surgeries, no one could figure out what was wrong with Rose Gold. Turns out her mom, Patty Watts, was just a really good liar. Mothers never forget. Daughters never forgive.
!! As a reminder, if you are posting to a personal or other non-PRH account you must include the hashtag #TeamPRH !!
Posted: January 26, 2021