Must-Watch Rap Video by Middle Schoolers Inspired by Rebecca Skloot's Bestseller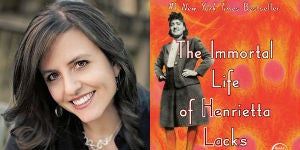 A remarkable video, "The Immortal Rap of Henrietta Lacks," made by 7th and 8th grade students in Oakland, CA, was inspired by the #1 New York Times bestselling Crown/Broadway book, THE IMMORTAL LIFE  OF HENRIETTA  LACKS by Rebecca Skloot, who makes a cameo in the video.
Ms. Skloot posted on her Facebook page: "Everyone! This is a MUST WATCH! This amazing group of 7th and 8th graders from Kipp Bridge in Oakland made a brilliant rap video about Henrietta Lacks (aka HeLa) and it's one of the best things that's ever happened. Seriously! What an honor it was to meet them — they did their best to teach me to dab for my cameo … with mixed results. So much fun! Huge props to the great Science With Tom for his work with them and #STEM education. Show them and science education some love! Watch! Share!" 
She also tweeted on Twitter: "#MUSTWATCH!! These amazing 7th graders made a brilliant rap video about #HenriettaLacks & it's one of the best things ever! #HeLa #STEM
For colleagues who have not read the book, Henrietta Lacks, dubbed "HeLa" by scientists, was a poor black tobacco farmer whose cells—taken without her knowledge in 1951—became one of the most important tools in medicine, vital for developing the polio vaccine, cloning, gene mapping, and more. Henrietta's cells have been bought and sold by the billions, yet she remains virtually unknown, and her family can't afford health insurance. Ms. Skloot's phenomenal book tells a riveting story of the collision between ethics, race, and medicine; of scientific discovery and faith healing; and of a daughter consumed with questions about the mother she never knew.
Posted: October 5, 2016