My Path to PRH: Jamie Lapeyrolerie on Acquiring Heartfelt Voices & Starting Your Own Literary Holiday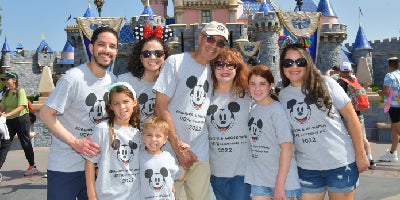 Everyone has unique career stories to tell.  In our My Path to Penguin Random House series, PRH colleagues share how they entered the world of book publishing, what led them to our company, insights into their jobs, and their future professional aspirations. 
This week, we're featuring Jamie Lapeyrolerie, Editor, WaterBrook and Multnomah, as she tells us her story in her own words.
How would you describe the course of your path to book publishing and PRH, including practical, professional, and educational? 
Like so many of us, I've always loved words and books. From when I was young (I rocked the summer library reading challenges) to graduating college (Azusa Pacific University) with a journalism degree to today, words have always been a part of my life.  
But publishing always felt so far away (figuratively and literally). This is kind of funny (embarrassing) to admit, but growing up in Southern California in the 80s and 90s, I just assumed all publishing jobs were on the east coast, mainly New York. After I graduated college in 2003, I wasn't ready to leave California, so I pursued other passions while working a full-time job (wedding photography, some freelance writing, and even went back to school for a bit).  
Fast forward a few years and my best friend and I moved to Austin, Texas. That is still one of the wildest things I've ever done, but Austin is such a fun and vibrant city. I worked in marketing (in a different industry) and I started my book blog while living there. As that grew and I became more familiar with different publishers, I began pursuing publishing more seriously. Thankfully the internet made it easy to find open positions and apply. And apply I did. I'd apply to a handful of jobs every quarter for years (some I was qualified for and some not so much…). Finally in the summer of 2016, a marketing position opened up at WaterBrook, I applied, and about a month later I was moving to Colorado. I worked for a little over six years in marketing and then an editorial opportunity came up and here I am! Now I get to acquire and edit fiction, nonfiction, and gift product. 
I love looking back and seeing how each period in my life played a role for the one I have now. It's a joy and blessing to get to do this every day. 
As an editor, what are key attributes you're looking for when you're looking to acquire fiction and nonfiction, as well as gift product for Ink & Willow? 
Personally, I'm a huge fiction reader, so when I'm acquiring fiction, that helps because I know the trends and where there is space to bring something fresh, since it's my world outside of work too. I'm looking for stories that need to be told and stories that will bring hope to the reader, whether it's a novel dealing with hard things or a more lighthearted story. I think my first two acquisitions are excellent examples of some of the things I look for: AN AMERICAN IMMIGRANT by Johanna Rojas Vann and THE GARDENS OF EDIN by Rosey Lee. As far as nonfiction, I'm want to acquire voices that are encouraging as well as voices contributing to important conversations for people of faith. What are the continued topics people are looking for and who is speaking into that space?  
Finally, for Ink & Willow, I love the creativity behind our line. Whether products we create or authored products, this is a space to dream up any and all ideas. My recent acquisition of BLACK JOY PLAYBOOK by Tracey Michae'l Lewis-Giggetts is a great example – a product that connects with people on a creative level and addresses a heartfelt need. 
One day I'll acquire a book that in some form or fashion that features a cat(s), but it hasn't happened yet. But one day!! 
How did your marketing background translate into publishing? 
I'm forever grateful for my marketing experience, as that got me in the door and into publishing. The foundations of marketing are so similar, no matter what industry you're in. Having marketing experience, as well as a deep love for books (through book blogging days and knowing the buyer since I am one!), helped when I first started, as I learned all the pieces of publishing I didn't know. And it still helps when it comes to acquisitions.  
Tell us more about living in Colorado! 
I'll forever be a Californian at heart and thankfully I get to visit my family often (and see the beach and my Disneyland!), but it's been an adventure living in Colorado. I used to always say I would never live in a place where it snows – ha! I'm not a big snow activities person, but when the weather is nice, I do sometimes try Colorado-ish activities and it turns out to be incredibly beautiful and fun. It really is a beautiful state. I especially love seeing color changes in the Fall, because that didn't happen where I grew up. And I love the community and friendships, like my WaterBrook fam, that I have here. Plus, I have my little snuggle bug, Gamgee Reepicheep, who I adopted last year as an 8-week-old kitten. He's a chaotic gremlin, but that cute face gets away with everything.
I also still write the occasional freelance piece, on my personal site Musings of Jamie (lots of book chatting!), and I write about J.R.R. Tolkien and C.S. Lewis over at The Inklings. I absolutely created a holiday every May 11 called International Inklings Day because that was the day they met at a faculty tea, in 1926, and because of their friendship we have brilliant works like THE LORD OF THE RINGS and THE CHRONICLES OF NARNIA  😊.  
Posted: May 17, 2023