Mysterious Galaxy Presents Lincoln Peirce and Judd Winick In Conversation with John Gallagher via Crowdcast (2/19)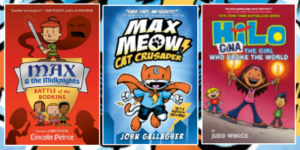 Lincoln Peirce, author of MAX AND THE MIDKNIGHTS: Battle of the Bodkins (Crown Books for Young Readers) and Judd Winick, author of HILO Book 7: Gina—The Girl Who Broke the World (Random House Books for Young Readers), will be in conversation with John Gallagher, author of the series MAX MEOW (Random House Books for Young Readers) at a virtual event hosted by Mysterious Galaxy bookstore via Crowdcast on Friday, February 19 at 9:00 pm (ET).
MAX AND THE MIDKNIGHTS, Lincoln Peirce's s first book for Crown Books for Young Readers, originated as an unfinished spoof of sword & sorcery tales. Returning to the idea years later, Lincoln rewrote the story around Max, a ten-year-old apprentice troubadour who dreams of becoming a knight. The result is a high-spirited medieval adventure, supported by hundreds of dynamic illustrations employing the language of comics. Of the lively visual format that has become his trademark, Lincoln says, "I try to write the sort of books I would have loved reading when I was a kid." When he is not writing or drawing, Lincoln enjoys playing ice hockey, doing crossword puzzles, and hosting a weekly radio show devoted to vintage country music. He and his wife, Jessica, have two children and live in Portland, Maine.
Judd Winick (@JuddWinick) is the creator of the award-winning, New York Times bestselling HILO series. He lives in San Francisco with his wife, their two kids, and their cat. Judd has scripted issues of bestselling comic series, including Batman, Green Lantern, Green Arrow, Justice League, and Star Wars. Judd also appeared as a cast member of MTV's The Real World: San Francisco and is the author of the highly acclaimed graphic novel Pedro and Me, about his Real World roommate and friend, AIDS activist Pedro Zamora.
John Gallagher is the art director of the National Wildlife Federation's "Ranger Rick" magazine and has been drawing comics since he was five. John is also the cofounder of "Kids Love Comics" (an organization devoted to using graphic novels to promote literacy) and leads workshops teaching kids how to create their own comics. John lives in Virginia with his wife and their three kids.
!! As a reminder, if you are posting to a personal or other non-PRH account you must include the hashtag #TeamPRH !!
Posted: February 17, 2021