Nancy Pearl Recipient of the 2021 National Book Foundation Literarian Award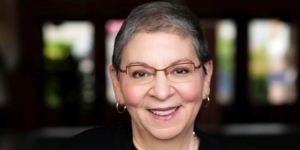 Nancy Pearl, a highly regarded former librarian and author of the Book Lust series, is the recipient of the National Book Foundation's 2021 Literarian Award for Outstanding Service to the American Literary Community. For nearly four decades, Pearl worked in the public library systems in Detroit, Tulsa, and Seattle, where she was the Executive Director of the Washington Center for the Book. From the creation of the pioneering One Book, One City program to her commitment to promoting books and authors, Pearl is an energetic champion for readers across the country.
Pearl's Book Lust series, four titles filled with book recommendations, is published by Sasquatch Books, a Penguin Random House Publisher Services client publisher.
Skip Dye, Senior Vice President, Library Sales and Digital Strategy, commented, "A longtime friend to Penguin Random House and me personally, Nancy Pearl has been an enthusiastic supporter of so many of our books over the years. Her legacy as a librarian and advocate for reading is unparalleled. This honor is richly deserved."
The Literarian Award will be presented to Pearl by The Washington Post's Ron Charles at the 72nd National Book Awards Ceremony on November 17.
Posted: September 10, 2021