Nate Evans and Stephanie Gwyn Brown to Present MOTHER GOOSE TO THE RESCUE! Via Zoom (2/27)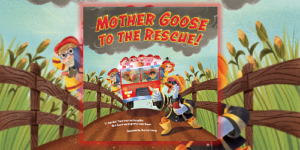 Join the virtual storytime launch for MOTHER GOOSE TO THE RESCUE! (Penguin Workshop) with authors Nate Evans and Stephanie Gwyn Brown, hosted by Once Upon A Time via Zoom on Saturday, February 27 at 5:00 pm (ET).
Welcome to Mother Goose's House of Rhyme, where a team of firefighting nursery rhyme characters are ready to leap into the action. When the Queen of Hearts's bakery goes up in flame, Chief Mother Goose, The Five Little Piggies, Mary and her little lamb, and the rest of the team are on the case. With fun, rhyming text, and featuring classic nursery rhyme characters, MOTHER GOOSE TO THE RESCUE! is the perfect way to celebrate firefighters everywhere.
Nate Evans is the New York Times bestselling author/illustrator of more than forty children's books, including Ponyella with Laura Numeroff. His most recent picture book is Cookiesaurus Rex, co-authored with Amy Fellner Dominy. Tyrannosaurus Ralph is his first middle-grade graphic novel, with artwork by his brother, Vince Evans. Before turning to his true love—children's books—Nate was a greeting card artist. Nate is also a seventh-grade teacher and loves to share his passion for books with his students.
Stephanie Gwyn Brown experiments with traditional and digital media in her Los Angeles studio. She is an author, painter, poet, illustrator, designer, aspiring puppeteer-musician, and award-winning experimental animator. When not tending her backyard menagerie, she may be found at the Natural History Museum, in a public library, or in a classroom. Stephanie is the author of Professor Aesop's the Crow and the Pitcher, and Bang! Boom! Roar! A Busy Crew of Dinosaurs.
!! As a reminder, if you are posting to a personal or other non-PRH account you must include the hashtag #TeamPRH !!
Posted: February 24, 2021