Nathan Englander Invites Readers to DINNER AT THE CENTER OF THE EARTH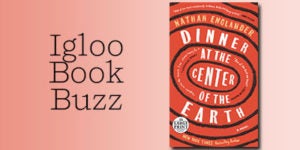 Our new Igloo Book Buzz selection is award-winning author Nathan Englander's DINNER AT THE CENTER OF THE EARTH, published by Knopf to much acclaim.  This timely political thriller unfolds in the highly charged territory of the Israeli-Palestinian conflict and pivots on the complex relationship between a secret prisoner and his guard.  Nathan has woven a powerful, intensely suspenseful portrait of a nation riven by insoluble conflict, even as the lives of its citizens become fatefully and inextricably entwined, interrogating the anguished, violent division between Israelis and Palestinians, and dramatizing the immense moral ambiguities haunting both sides. 
Nathan offers personal insights into his latest novel with responses to the following three questions:
How would you describe the genesis of DINNER AT THE CENTER OF THE EARTH?
I trace it back to the collapse of the Israeli-Palestinian peace process and the end of my time in Jerusalem (where I lived from 1996 to 2001). I never got over the opportunity lost. And I've always wanted to explore that impossibly complicated conflict in a novel.
What were the most challenging and rewarding aspects of writing this book?
The most challenging? That's easy. Part of what obsesses me about the subject, is the circular nature of the fighting. Everyone always avenging those who died avenging. Everyone, on both sides—I promise you—right now preparing for the next round. I wanted DINNER AT THE CENTER OF THE EARTH to reflect that spiral in its structure. So, though it reads in a linear fashion, it's built up of maybe a half dozen different timelines, and with characters playing dual roles.
As for the rewarding aspects, it was a lot of fun to build a spy who is, in many ways—mercy upon him—as neurotic as I am.
What elements of DINNER AT THE CENTER OF THE EARTH do you think will resonate most strongly with readers?
I'd say my guess is as good as yours. But, it's actually worse. I've only done two public events so far, and I've already learned so many things about what's in the book, and how it will be read. Last night, I was in conversation with Jonathan Safran Foer and he asked a question about the parallels between the two critical dinners at the end of the novel that was so smart, so different from how I'd thought about it, it made me see the ending in a whole new light.
Posted: September 12, 2017