Nathaniel Philbrick Wins 2017 George Washington Prize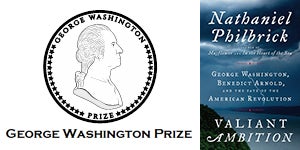 Nathaniel Philbrick has won the George Washington Prize, including an award of $50,000, for his book, VALIANT AMBITION: George Washington, Benedict Arnold, and the Fate of the American Revolution (Viking/Penguin). Now in its 12th year, the George Washington Prize honors its namesake by recognizing the year's best new books on the nation's founding era, especially those that engage a broad public audience. Conferred by George Washington's Mount Vernon, the Gilder Lehrman Institute of American History, and Washington College, the award will be presented to Mr. Philbrick on May 25 at a black-tie gala at Mount Vernon.
"To have Valiant Ambition recognized in this way means a tremendous amount to me, especially given the extraordinary quality of the books produced by the other six finalists," said Mr. Philbrick. "My heartfelt thanks to the jurors involved in the selection process and to the George Washington Prize's sponsoring institutions."
VALIANT AMBITION is a surprising account of the middle years of the American Revolution and the tragic relationship between George Washington and Benedict Arnold. Philbrick creates a complex, controversial, and dramatic portrait of a people in crisis and of the war that gave birth to a nation.
"Our objective in creating the Washington Prize was to stimulate scholarly works that are accessible to the general public," said Mount Vernon president Curt Viebranz. "This year's finalists confirm that we are succeeding; Nat Philbrick's VALIANT AMBITION is at once a detailed and accurate account of the relationship between George Washington and Benedict Arnold as well as an engaging read."
Established in 2005, the George Washington Prize has honored a dozen leading writers on the Revolutionary era including, Lin-Manuel Miranda, creator of the hit musical Hamilton. For this year's prize, a distinguished jury comprised of notable historians David Preston, Kathleen DuVal, and Nick Bunker, selected the finalists from a field of nearly 60 books.
Posted: April 27, 2017