NBCC "Best": Danticat, Keefe, Miller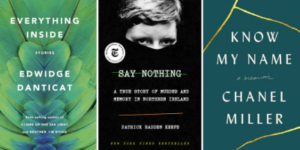 After the day-long cascading news of disruptions emanating from the escalating impact of COVID-19, it was truly cheering to learn on Thursday night, that the prestigious National Book Critics Circle is honoring three of our titles as the "best" books published in 2019 in their respective categories.
Our Penguin Random House National Book Critics Award Winners:
Fiction
EVERYTHING INSIDE by Edwidge Danticat (

Knopf hardcover, e-book; Vintage paperback coming July 2020

)
Nonfiction
Autobiography
KNOW MY NAME: A Memoir by Chanel Miller (

Viking hardcover, e-book; Penguin paperback coming August 2020; Penguin Audio

)
The news was announced in a press release from the organization, as the scheduled March 12 ceremony has been postponed until September 12.
Founded in 1974, the National Book Critics Circle is comprised of 750 working critics and book-review editors nationwide. Finalists for its six categories of awards are nominated, evaluated, and selected by its board of directors.
We thank the members of the NBCC for underscoring the excellence of our publishing—especially in these times when we all could use a lift of our spirits.
And, of course, a big congratulations to all the finalists, and to Edwidge Danticat, Patrick Radden Keefe, Chanel Miller, and our Knopf, Doubleday, and Viking publishing teams.
To view all of the winners of the 2019 NBCC Awards, click here.
Posted: March 15, 2020