NCTE Creates Book Rationale Database With PRH Education Grant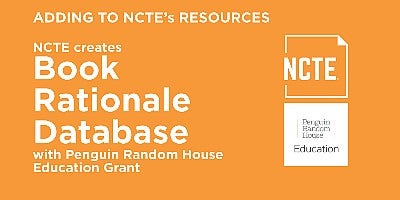 Penguin Random House Education and the National Council of Teachers of English have announced a new initiative to digitize the Book Rationale Database on NCTE's Intellectual Freedom Center website. While NCTE has always shared rationales with members, this is the first time that the book rationales will be available digitally. PRH Education supported the digitization effort in the form of a $10,000 grant.
NCTE Executive Director Emily Kirkpatrick said of the grant, "We thank our partner Penguin Random House Education for demonstrating their ongoing commitment to educators and for their support of freedom of expression for writers, creators, and artists."
Hundreds of searchable rationales created by teachers will be made available to NCTE members on the new digital rationale database this spring. Members will also be able to use this database to access a new form to submit new rationales.
When censorship claims have been filed or when the competence of a teacher is questioned, book rationales serve to document and confirm why a book was selected for classroom use. As recommended by the NCTE, teachers should rely on book rationales to create units and lesson plans.
More information on the upcoming digitized Book Rationale Database can be found here.
Posted: March 10, 2022