Netflix Film Based on Jennifer Niven's ALL THE BRIGHT PLACES Debuts Today – Watch the Trailer!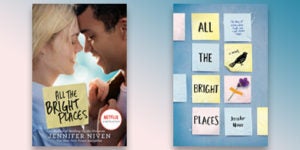 Jennifer Niven's acclaimed New York Times bestselling book, ALL THE BRIGHT PLACES, has been adapted into a film, released globally on Netflix today, February 28. Elle Fanning portrays Violet Markey and Justice Smith plays Theodore Finch – two teens who find each other while standing on the edge. The film is directed by Brett Haley. Jennifer Niven and Liz Hannah penned the screenplay.
"There are no words to express what it's like to see ALL THE BRIGHT PLACES turned into a film," says Niven. "It's a story that began with a boy I loved—and lost. Then with me sitting alone at a computer. Since then, the book has reached readers around the world who have said the book saved their lives. I couldn't have anticipated any of this. My hope for the movie is that it reaches the viewers who need it most and reminds them—as the book does—that they aren't alone."
Niven's editor, Melanie Nolan, Vice President & Publisher, Knopf Books for Young Readers, says, "We are so thrilled to see Jennifer Niven's ALL THE BRIGHT PLACES on Netflix! This was the book I gave to my mom, to my sister and niece, to my son, and to every friend who crossed my path—and each person in turn has passed it on to someone they love. It's a story that will open your heart to the fragility of life, and to the power of the human connection to help us illuminate the dark moments."
To watch the ALL THE BRIGHT PLACES trailer, click here.
Niven's next YA novel, BREATHLESS, will be published by Knopf Books for Young Readers on October 6, with a first printing of 150,000 copies. Beautifully written and effortlessly real, the book is an insightful portrayal of a sensitive girl ready to live her bravest life—sex, heartbreak, family drama, and all.
"BREATHLESS is Jennifer Niven at her best," says Melanie Nolan. "She has a gift for speaking directly to her readers, and here she delves into issues of self-discovery, trust, and first love in a way that will be achingly relatable to young adults. This is the book version of the best friend you turn to when going through an emotional rite of passage."
Posted: February 28, 2020