Netflix Partners With The Roald Dahl Story Company On New Slate Of Dahl Animated Stories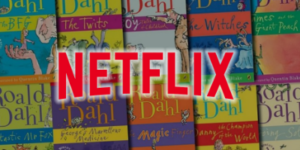 Netflix has partnered with The Roald Dahl Story Company to extend the Roald Dahl universe of stories for global family audiences with an exclusive new slate of original animated event series, based on the books from the acclaimed and award-winning author's best-selling library, including CHARLIE AND THE CHOCOLATE FACTORY, MATILDA, THE BFG, THE TWITS, and many other beloved titles, published in the U.S. by Penguin Young Readers Puffin imprint.
Roald Dahl stories have long inspired award-winning feature films and stage productions. But now, for the first time, Netflix will bring together the highest quality creative, visual, and writing teams to extend the stories in this first-of-its-kind slate of premium animated event series and specials for audiences of all ages and for families to enjoy together. Netflix intends to remain faithful to the quintessential spirit and tone of Dahl while also building out an imaginative story universe that expands far beyond the pages of the books themselves.
Production is set to begin on the first set of projects next year.
Posted: November 28, 2018