Never-Before-Seen Philip Pullman Manuscript to Be Published in October 2020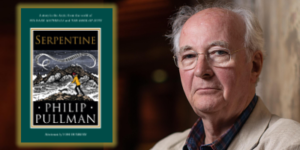 Alfred A. Knopf Books for Young Readers will publish a previously unseen manuscript by Philip Pullman on October 15, 2020, it was announced today by Barbara Marcus, President & Publisher of Random House Children's Books. SERPENTINE—a novella set after the events of His Dark Materials but before those of The Secret Commonwealth—was written in 2004, but has remained under wraps until now. The announcement coincides with the 25th anniversary of The Golden Compass, the first volume of Pullman's ground-breaking, internationally bestselling His Dark Materials trilogy, which was published in 1995. Listening Library will simultaneously publish an audiobook edition of SERPENTINE, narrated by Academy Award-winning actress Olivia Colman (The Crown, The Favourite, Fleabag).
Philip Pullman says: "Why are we publishing this story now? Because with the development of The Book of Dust, especially after the events described in The Secret Commonwealth, we can see a change in the way Lyra understands herself, and her relationship with Pantalaimon, which is prefigured in this little Arctic episode. When I wrote SERPENTINE, I had no idea that I was going on to write another trilogy, showing Lyra as an adult, but she and her world wouldn't leave me alone. When it comes to human affairs, a billion invisible filaments connect us to our own pasts, as well as to the most remote things we can imagine; and I hope that, above all, these books are about being alive and being human."
In SERPENTINE, a teenage Lyra returns to the town of Trollesund, the setting of her first encounter with Iorek Byrnison and Lee Scoresby in The Golden Compass. Lyra and Pan are older and a little wiser, and in search of an answer to a shocking, secret condition—their ability to separate—from the witch-consul, Dr. Lanselius. What unfolds is a tender, revelatory scene that foreshadows Lyra's future struggles as a young woman, and provides insight into Pullman's own early exploration of a previously unthinkable plot development that would emerge in his The Book of Dust sequence: the idea that a human's bond with their daemon can be irreparably broken
The standalone short story was written for a charity auction at the request of the National Theatre's then-director, Nicholas Hytner, during the award-winning stage production of His Dark Materials. The hand-written manuscript and printed typescript were auctioned and bought by Glenn and Phyllida Earle with all proceeds going to charity. The book is being published 16 years later, following the publication of The Secret Commonwealth: The Book of Dust Volume Two last fall, where readers were introduced to an adult Lyra.
The Golden Compass introduced readers to the parallel world of Lyra Belacqua, the truth-telling alethiometer, the concept of Dust and the idea of dæmons, the animal embodiment of a human's inner-life and thought. Acclaimed as a modern masterpiece from the beginning, The Golden Compass went on to win numerous awards, including the Carnegie of Carnegies, has sold over 2 million copies through BookScan's Total Consumer Market and has been translated into 45 languages. The book established Pullman as one of the greatest storytellers of our time.
25 years on, Lyra's story continues to grip the imagination. 18 million copies of the His Dark Materials trilogy have sold in over 44 languages, and HBO recently launched a television adaptation of His Dark Materials with an all-star cast including Dafne Keen, Ruth Wilson, James McAvoy and Lin-Manuel Miranda.
2020 sees an exciting program of Pullman activity, with Season Two of the His Dark Materials television series coming soon, as well as the publication of two new editions of Pullman titles from Alfred A. Knopf Books for Young Readers, both releasing on November 3: a paperback version of The Secret Commonwealth (Book of Dust, Volume 2) and an HBO tie-in edition of The Subtle Knife.
Posted: July 9, 2020