New Andy Weir Novel, PROJECT HAIL MARY, to Be Published in May 2021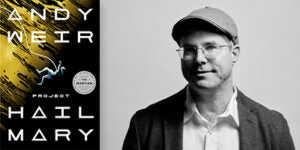 Random House is excited to announce the upcoming publication of PROJECT HAIL MARY, a new science-based thriller from Andy Weir, the #1 New York Times bestselling author of The Martian and Artemis. Ballantine Executive Editor Julian Pavia acquired world rights for this new novel from David Fugate at LaunchBooks Literary Agency. PROJECT HAIL MARY will have a global English-language publication date of May 4, 2021, in partnership with Random House UK's Del Rey imprint.  
In PROJECT HAIL MARY, a lone astronaut awakens to find himself on a ship deep in space, his crewmates dead and his memories missing. All he knows is that he alone must now complete a desperate, last-chance mission to save the Earth from disaster.
Said Weir, "I'm always proud and excited when I finish a book, but I really cannot wait to get this one in people's hands in May. It's hitting a lot of those notes that people responded to with The Martian—but I also went for it in a big way with the science and the speculative aspects, and it took the story in some crazy and exciting new places."
Film rights to the novel have sold to MGM with Ryan Gosling attached to star and filmmakers Phil Lord & Chris Miller set to direct. Joining them as producers are Pascal Pictures' Amy Pascal, Arcadia's Ken Kao, and Lord Miller's Aditya Sood, who was also a producer on Ridley Scott's blockbuster adaptation of The Martian.
Andy Weir photo credit: Aubrie Pick
Posted: August 11, 2020