New Dr. Seuss-Inspired Cookbook for Kid Chefs Coming From RHCB in January 2022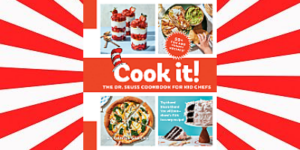 On January 4, 2022, Random House Children's Books, together with Dr. Seuss Enterprises, will publish COOK IT! The Dr. Seuss Cookbook for Kid Chefs by New York Times bestselling cookbook writer Daniel Gercke, with photographs by Christopher Testani. The publication was announced by Mallory Loehr, Executive Vice President & Publisher, Random House Books for Young Readers Group (RHCB). The perfect gift for budding chefs, this illustrated cookbook has 50+ recipes inspired by the works of Dr. Seuss for children and grown-ups to cook together.
With classic Dr. Seuss artwork and characters, the simple, wholesome recipes in this unique cookbook are both fun to read and make—and will teach children essential cooking skills to get started in the kitchen and build confidence in their own cooking. The recipes, including ones like Pups in Cups, Star-Belly Peaches, and Warm Whisked Wocket Waffles, are organized by the cooking skills they require, making it easy for parents to find the right recipe for their child's ability. Created specifically for children to use with adults—and written partially in rhyme!—this book is filled with bright, beautiful photographs by acclaimed photographer Christopher Testani, and accompanied by classic artwork from twenty-one different books by Dr. Seuss. The format of the book has a sturdy lay-flat binding that makes it easy to use in the kitchen.
"We couldn't be more thrilled to bring this cookbook to the kitchens of Dr. Seuss fans and chefs of all ages," says Susan Brandt, President, Dr. Seuss Enterprises. "Dr. Seuss has been making food fun for generations, and this book delivers on that legacy in a fresh and entertaining and entirely Seussical way."
An introductory section in COOK IT! introduces basic kitchen safety and includes advice on food preparation, cleaning up as you cook, learning from mistakes, and more. COOK IT! The Dr. Seuss Cookbook for Kid Chefs takes the classic timelessness of Dr. Seuss and gives fans a new format to share the wonderful world of Dr. Seuss with loved ones.
COOK IT! The Dr. Seuss Cookbook for Kid Chefs is part of a larger brand extension called "Seuss Chef," currently being developed by Dr. Seuss Enterprises. "Seuss Chef" is a "garden-to-table" foodie brand for kids that will feature cookbooks, like COOK IT!, as well as digital content, licensed products, and more. The first associated digital content will debut on YouTube in conjunction with the book's release.
Daniel Gerke is a writer living in Brooklyn, New York. This is his fifth cookbook, after Kid in the Kitchen, as well as others about chickens, pies, and zombies, but at heart he has always been a Green Eggs and Ham kind of guy. His Bar-ba-loot suit still fits. He shares a very lively kitchen with his wife, Melissa Clark, and their daughter, Dahlia.
Christopher Testani was born and raised in upstate New York and studied cinema and photography at Ithaca College. In 2012 he was selected as one of PDN magazine's 30 New and Emerging Photographers to Watch and has gone on to work regularly for a wide range of top editorial and commercial clients around the world. As an avid cook, outdoor enthusiast, and traveler, he draws inspiration from the things he loves—good food, people, travel, and the stories that bring them all together. He currently lives in Brooklyn, New York, but can be found traveling wherever the job takes him or daydreaming about that perfect little cabin in the woods.
Posted: September 10, 2021