New Release Spotlight: I'M AFRAID OF MEN by Vivek Shraya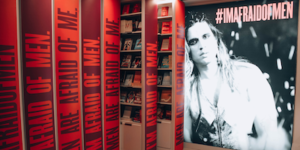 Penguin Canada, a division of Penguin Random House Canada, is thrilled to be publishing the urgent and essential I'M AFRAID OF MEN by trans writer and artist Vivek Shraya, whose body of work crosses the boundaries of music, poetry, fiction, visual art, and film. "I'm afraid of men because it was men who taught me to fear the extraordinary parts of myself," writes Shraya in her short but powerful meditation on gender. With raw honesty, Shraya delivers an important record of the cumulative damage caused by misogyny, homophobia, and transphobia, releasing trauma from a body that has always refused to assimilate. I'M AFRAID OF MEN is a journey from camouflage to a riot of colour and a blueprint for how we might cherish all that makes us different and conquer all that makes us afraid.
David Ross, Managing Editor at Penguin Canada, has been the driving force behind I'M AFRAID OF MEN since he acquired it and recently told the Toronto Star "It's a sad truth that every day I see at least one reminder of the necessity of a book like this, and I can think of no better person to write it than Vivek, whose knack for dismantling assumptions and challenging the status quo put her in a class all her own." It was also David's idea to put "Men Are Afraid of Me" on the back cover: "Part of the rationale was thinking about the
book as art, and as an object that will agitate in public spaces," Shraya said in an interview in Vanity Fair.
Published in Canada and in the U.S. on August 28, the publication includes a simultaneous audiobook release narrated by Shraya.
Learn more about I'M AFRAID OF MEN:
Check out and share recent features, including these from Quill & Quire, Vanity Fair and Chatelaine, and look out for the stunning poster campaign, and ads in print and online.
Listen and subscribe to Penguin Random House Canada's popular new books podcast Semi-Prose, including Shraya's interview, "International Shraya's Anthem."
Visit Indigo to see the title as the Staff Pick of the Month for September.
Visit the Penguin Shop in Toronto (or explore the selection of related materials online) to experience a thematic and artistic takeover based on I'M AFRAID OF MEN, on display until September 26. The takeover includes a thematically-related selection of books, reading guides, giveaways, and exclusive merchandise, and 10 per cent of all shop sales for the length of the takeover will be made as a charitable donation to the Tegan and Sara Foundation.
#ImAfraidofMen
https://www.penguinrandomhouse.ca/campaign/665/im-afraid-men
Posted: September 6, 2018