New Supreme Court Thriller from Stacey Abrams to be Published by Doubleday in May 2021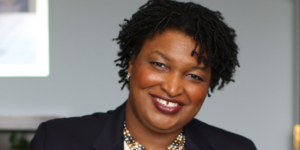 Doubleday and Anchor Books have acquired North American rights to celebrated political leader and bestselling author Stacey Abrams' new novel, WHILE JUSTICE SLEEPS, a gripping, complexly plotted thriller set within the halls of the U.S. Supreme Court. It will be published on May 25, 2021 by Doubleday with an announced first printing of 150,000 copies. The book will be published in hardcover and as an ebook, and in audio by Penguin Random House; it will be published in trade paper by Anchor the following year.
"A decade ago, I wrote the first draft of a novel that explored an intriguing aspect of American democracy – the lifetime appointments to the U.S. Supreme Court," says Stacey Abrams. "As an avid consumer of legal suspense novels and political thrillers, I am excited to add my voice into the mix. Drawing on my own background as a lawyer and politician, WHILE JUSTICE SLEEPS weaves between the Supreme Court, the White House and international intrigue to see what happens when a lowly law clerk controls the fate of a nation."
"I've had tremendous admiration for Stacey Abrams' political work for quite some time," says Vice President, Executive Editor Jason Kaufman, "but it was an unexpected pleasure to discover that she is also a masterful thriller writer. WHILE JUSTICE SLEEPS is intricately plotted with a magnificent puzzle at its core, and the characters were memorable long after I put the manuscript down. Stacey's inside viewpoint of politics, the Supreme Court, and her background in law all weave together into a suspenseful and satisfying novel. Not to mention, at a time when the political dynamic of the Supreme Court is so important and tenuous, it was spellbinding to read a thriller set within its halls of power."
Stacey Abrams is the two-time New York Times bestselling author of Our Time is Now and Lead from the Outside, an entrepreneur, and political leader. A tax attorney by training, she served eleven years in the Georgia House of Representatives, seven as Minority Leader, and became the 2018 Democratic nominee for governor of Georgia, where she won more votes than any other Democrat in the state's history. She has launched multiple organizations devoted to voting rights, training and hiring young people of color, and tackling social issues at the state, national, and international levels. She is the founder of Fair Fight, Fair Count, and the Southern Economic Advancement Project. Abrams is a lifetime member of the Council on Foreign Relations, and sits on the advisory boards of Climate Power 2020 and the Women's National Basketball Players Association. She has received degrees from Spelman College, the LBJ School of Public Affairs at the University of Texas, and Yale Law School.
Posted: October 18, 2020