Newbery Winner Tae Keller's Moving Acceptance Speech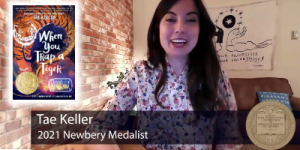 Tae Keller, author of the 2021 Newbery Medal winning book,  WHEN YOU TRAP A TIGER (Random House Books for Young Readers), delivered her acceptance speech at the virtual 2021 American Library Association (ALA) Newbery Caldecott Legacy Awards Ceremony on Sunday, June 27.  
WHEN YOU TRAP A TIGER is an uplifting story that brings Korean folklore to life as a lonely, quiet girl named Lily goes on a quest to unlock the power of stories and save her grandmother. With the help of her sister and friend Ricky, Lily finds her voice and her courage to face a tiger.
The John Newbery Medal was awarded in January, but the acceptance speech was delivered during the 2021 Virtual ALA Conference & Exhibition. In her acceptance speech, Tae Keller explains why stories are so important, "We tell stories because they connect us to the world and guide us back to ourselves. Stories show us who we are and without stories, who are we?"
The special acceptance speech can be seen here. The ALA Conference & Exhibition ended on Tuesday, June 29, with a closing keynote discussion between Former President of the United States Barack Obama and Lonnie G. Bunch III, the first African American secretary of the Smithsonian.
Posted: July 1, 2021