Newest Books & Banter Event Takes a Virtual Trip to Italy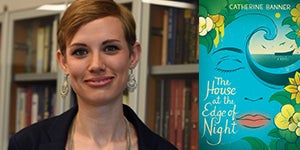 The creation of the characters, tales and mythical island of Castellamare, featured in Catherine Banner's new novel, THE HOUSE AT THE EDGE OF NIGHT, published by Random House on July 12, were explored at last month's Books & Banter event at 1745 Broadway. This Penguin Random House Sales initiative invites an imprint or publishing team to share a special publishing story with all of sales and other in-house colleagues to create pre-pub buzz.  Ms. Banner, connected via live-streaming video from her home in Italy, and Random House EVP, Executive Editorial Director, Associate Publisher, Kate Medina, introduced by Jaci Updike, President of Sales, talked about how this sweeping saga became a book.
"I'll never forget my excitement," said Ms. Medina, "the minute I started reading the manuscript. It had all of these elements – romance, adultery, lust, family – and images that were truly beautiful.  It was ambitious for Kate to write about four generations, with such breadth and depth. And I started thinking, 'Can we be in a relationship?  Can she be a good partner with Random House?' We quickly decided, 'Yes.'"
Ms. Banner noted, "It is so important to have the right team around you.  It was a transformative discovery for me, upon reading the first memo from Kate.  Her notes showed me, 'That's the book this could be.'"
"The editor has an inner metronome," said Ms. Medina. "The story has to keep moving and I suggested ways in which that could be accomplished, to make sure there are no pauses."
Spanning four generations and nearly a century, through secrets and mysteries, trials and sacrifice, THE HOUSE AT THE EDGE OF NIGHT  is a beautiful and haunting novel that follows the lives of the Esposito family and other islanders who live and love on Castellamare, an enchanting island off the coast of Italy.
Ms. Banner, who was born in Cambridge in 1989 and began writing at the age of fourteen, previously published a trilogy of young adult novels. THE HOUSE AT THE EDGE OF NIGHT is her debut adult novel and she revealed that months of research went into the creation of her fictional characters, scenarios and settings that live and breathe on the page.
Fellow Random House author Sara Gruen offered this praise: "Catherine Banner's latest is a masterful piece of storytelling, infused with the miraculous (both in stories and in everyday life) while maintaining the difficult balance between the explainable versus the inexplicable. Through the life of a single man—a man not noteworthy in the eyes of the world—and his family, Banner touches on such broad themes as community and the way global events play out in individual lives and larger society. And just as the broader themes affect the more personal ones, Banner's style echoes the book's content: THE HOUSE AT THE EDGE OF NIGHT is captivating and beautifully rendered."
Here is a sampling of advance media buzz:
"A luminous homage to the Italian tradition of storytelling … a lusty page-turner that weaves romance, rivalry and the intricacies of family expectations into one glorious tale. There are echoes of Italo Calvino in Banner's writing—echoes of admiration and love. Reading The House at the Edge of Night is like falling into a fantastical world where time stands still, yet change happens at an unimaginable pace."—Minneapolis Star Tribune
"A fantastic chronicle … Banner deftly touches on weightier themes while weaving an enchanting narrative."—Publishers Weekly, Starred Review
"Ah, what fun. Don't miss it. [A] knockout adult debut … whisking us away to a world grounded in both reality and myth, filled with marvelously peculiar characters, plotted on a grand scale."—Kirkus, Starred Review
Posted: July 11, 2016