Nic Stone's DEAR JUSTYCE Pre-Order Campaign, #Justyce Challenge, Sparks Book Donations to Prisoners Literature Project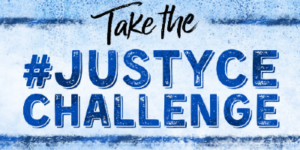 To promote the upcoming September 29 publication of Nic Stone's DEAR JUSTYCE, the sequel to her New York Times bestselling novel DEAR MARTIN, Crown Books for Young Readers has launched a pre-order campaign called #JustyceChallenge.
For every proof of pre-order of DEAR JUSTYCE, one copy of DEAR MARTIN (up to 5,000 copies) will be donated to the Prisoners Literature Project, a nonprofit organization dedicated to supporting literacy for incarcerated people. Pre-ordering also secures their place in a virtual event with Nic Stone. Participants can submit their proof of pre-order here through September 27.
In addition, for every 1,000 uses of #JustyceChallenge on social media, 500 advance copies of DEAR JUSTYCE will be donated to the Prisoners Literature Project (up to 4,000 copies).
In DEAR JUSTYCE, Nic Stone delivers an unflinching look into the flawed practices and silenced voices in the American juvenile justice system. Vernell LaQuan Banks and Justyce McAllister grew up a block apart in the Southwest Atlanta neighborhood of Wynwood Heights. Years later, though, Justyce walks the illustrious halls of Yale University . . . and Quan sits behind bars at the Fulton Regional Youth Detention Center.
Through a series of flashbacks, vignettes, and letters to Justyce – the protagonist of DEAR MARTIN –Quan's story takes form. Troubles at home and misunderstandings at school give rise to police encounters and tough decisions. But then there's a dead cop and a weapon with Quan's prints on it. What leads a bright kid down a road to a murder charge? Not even Quan is sure.
Posted: August 26, 2020