Nick Hornby to Talk About His New Novel via YouTube (10/27)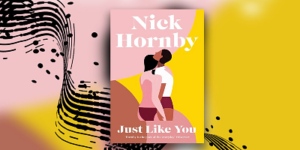 The Chicago Humanities Festival presents Nick Hornby, who will discuss his new novel, JUST LIKE YOU (Riverhead), in conversation with Ayelet Waldman via YouTube on Tuesday, October 27 at 12:00 pm (ET).
This warm, wise, highly entertaining twenty-first century love story is about what happens when the person who makes you happiest is someone you never expected. Lucy used to handle her adult romantic life according to the script she'd been handed. She met a guy just like herself: same age, same background, same hopes and dreams; they got married and started a family. Too bad he made her miserable. Now, two decades later, she's a nearly-divorced, forty-one-year-old schoolteacher with two school-aged sons, and there is no script anymore. So when she meets Joseph, she isn't exactly looking for love–she's more in the market for a babysitter. Joseph is twenty-two, living at home with his mother, and working several jobs, including the butcher counter where he and Lucy meet. It's not a match anyone one could have predicted. He's of a different class, a different culture, and a different generation. But sometimes it turns out that the person who can make you happiest is the one you least expect, though it can take some maneuvering to see it through.
JUST LIKE YOU is a brilliantly observed, tender, but also brutally funny new novel that gets to the heart of what it means to fall surprisingly and headlong in love with the best possible person–someone you didn't see coming.
Nick Hornby is the author of several internationally bestselling novels including High Fidelity, About a Boy, and A Long Way Down, as well as several works of nonfiction, including Fever Pitch, Songbook, and Ten Years in the Tub. He has written screenplay adaptations of Lynn Barber's An Education, which was nominated for an Academy Award, Cheryl Strayed's Wild, and Colm Tóibín's Brooklyn. He lives in London.
!! As a reminder, if you are posting to a personal or other non-PRH account you must include the hashtag #TeamPRH !!
Posted: October 24, 2020