Nikita Stewart In Conversation with Giselle Burgess via Zoom (5/20)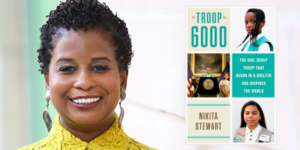 Nikita Stewart presents her book, TROOP 6000: The Girl Scout Troop That Began in a Shelter and Inspired the World (Ballantine), in conversation with Giselle Burgess, the visionary behind Troop 6000, via Zoom on Wednesday, May 20 at 7:30pm (ET).
TROOP 600 is the inspiring true story of the first Girl Scout troop founded for and by girls living in a shelter in Queens, New York, and the amazing, nationwide response that it sparked.
Stewart is a reporter covering social services for The New York Times. The Newswomen's Club of New York recognized Stewart in 2018 for her coverage of homelessness, mental health, and poverty. She has been a finalist for the Livingston Award and the Investigative Reporters and Editors Award. She joined The New York Times in 2014 after working at The Washington Post.
!! As a reminder, if you are a PRH employee posting to a personal or other non-PRH account, you must include the hashtag #TeamPRH !! 
Posted: May 19, 2020