No Comic-Con, No Problem: Del Rey and Out of Print Team Up to Launch Exclusive Star Wars Offers Online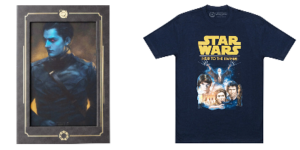 In advance of the 30th anniversary of Timothy Zahn's Heir to the Empire in May 2021, Del Rey and Out of Print have teamed up to celebrate Thrawn like never before with two exciting offers.
First is a spectacular collector's edition of Star Wars Thrawn Ascendancy: Chaos Rising, the recently released first volume in a brand new Thrawn trilogy. The collector's edition book features an exclusive jacket cover designed by illustrator Magali Villeneuve. Each copy is signed by author Timothy Zahn and has a special foil stamped slipcase and true stained book pages in vibrant Chiss blue. 750 copies were printed and will be sold for $150 each.
In more normal times, special edition publications like this would be available to fans only at events like Comic Con, but Covid-19 forced Del Rey and Out of Print to think creatively to find a new way to bring these products to market directly and exclusively on outofprint.com. After social, email and PR promotion by both divisions, over 1,000 Star Wars book enthusiasts signed up to be notified when the book goes on sale.
"2020 has been all about finding new ways to connect with readers despite losing conventions, in-person events, and other immense challenges. Working with Out of Print and our friends at Lucasfilm to create this incredible collector's edition is remarkably exciting. It's the start of what we all anticipate will be an exciting new way to connect with Star Wars readers," said Tom Hoeler, an Editor at Del Rey Books.
Second is an all-new Out of Print t-shirt inspired by the iconic first edition cover of Heir to the Empire, featuring art by the legendary Drew Struzan on the front, and the classic novel crawl on the back. It is the first officially licensed Thrawn Star Wars merchandise and has also been very well received. Each shirt will be sold for $30 or for a special price of $20 when purchased with the collector's edition book.
"This project is an excellent match for our brand. Collectors of exclusive, premium books are the perfect audience for the type of 'fanware' we offer. This is just the beginning. We see more projects like this taking place in 2021 with Star Wars, Del Rey and other PRH publishers," says Out of Print Managing Director Todd Lawton.
The collector's edition book and Heir to the Empire t-shirt will be available on November 17 at 11am EST. Visit https://outofprint.com/collections/star-wars for more info.
Posted: November 17, 2020