Nobel Laureate Wole Soyinka's First Novel in 48 Years Coming From Pantheon in September 2021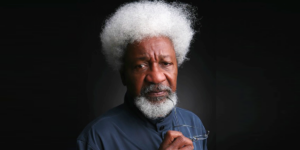 Pantheon Books will publish a new novel by the African writer, Nobel Laureate and political activist Wole Soyinka on September 28, 2021. The book, CHRONICLES FROM THE LAND OF THE HAPPIEST PEOPLE ON EARTH, will be Soyinka's first novel to be published in nearly fifty years.
The announcement was made by Reagan Arthur, Executive Vice President and Publisher of Knopf, Pantheon, and Schocken Books. The book will be edited by Erroll McDonald, Vice President and Executive Editor at Pantheon. It will be published simultaneously with Bloomsbury Publishing in the UK. Rights were acquired from the Melanie Jackson Agency. It will be published in hardcover and as an eBook and also on audio from Penguin Random House.
Set in an imaginary Nigeria, CHRONICLES FROM THE LAND OF THE HAPPIEST PEOPLE ON EARTH is at once a savagely witty whodunit and a corrosively satirical examination of corruption, both personal and political. Duyole Pitan-Payne, a celebrated engineer and Yoruba royal who is the life of every party, is about to assume a prestigious post at the United Nations in New York, only someone is determined that he not make it there. Dr. Menka, his childhood friend, needs to know why, but he soon finds there are some questions that are best left unanswered.
"It is a tour de force," McDonald says. "Unsparingly gimlet-eyed, it is an often-hilarious meditation on the vicissitudes of power and greed as they corrupt the soul of a nation."
Soyinka was born in Abeokuta, Nigeria in 1934. He is an author, playwright, poet and political activist, whose prolific body of work includes The Interpreters, his debut novel that was published in 1965, and the play, Death and the King's Horseman, which was first performed in 1976. Soyinka was twice jailed for his criticism of the Nigerian government, and he destroyed his Green Card in 2016 when Donald Trump was elected President of the United States. In 1986, he became the first African to be awarded the Nobel Prize in Literature.
Posted: December 11, 2020