NPR Celebrates 25 Years of Riverhead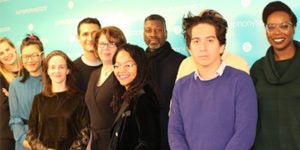 NPR's Selected Shorts partnered with Symphony Space to host a memorable evening honoring 25 years of Riverhead Books on Wednesday, November 28. An assortment of Broadway actors read aloud six different short stories, and some of Riverhead's marquis authors took the stage along with them, including National Book Award winner James McBride, two-time National Book Award finalist Lauren Groff, and story writers Daniel Alarcón and Lesley Nneka Arimah.
Bestselling novelist Meg Wolitzer served as the emcee, remarking, "As a publisher, Riverhead Books has made dramatic headway in the industry over the decades, publishing a powerful roster of authors who represent a striking array of backgrounds, cultures and literary styles. Riverhead has made it clear how essential and successful a publisher can be when it has a deep commitment to channeling various diverse voices."
The full program will air on NPR later this month. Interviews with Meg Wolitzer and Lauren Groff honoring the 25th anniversary aired last week on WNYC. To listen to Groff discuss her book, FLORIDA, click here.
Posted: December 6, 2018