NPR's Morning Edition Features @AllWaysBlack and Cree Myles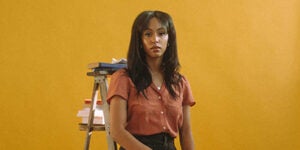 The Consumer Marketing Team is thrilled to share that Cree Myles and @allwaysblack, the PRH Instagram account Cree curates in partnership with the Creative Strategy team, were featured on NPR's Morning Edition. Originally taped with Maayan Silver for NPR affiliate WUWM in Milwaukee, the piece ran nationally on NPR's Morning Edition on Thursday May 5. In the interview, Myles discusses the inspiration behind All Ways Black.
"I'm all about glamorizing Black literature and the writers," Myles notes. "They give us such important stories. They should be treated accordingly. That's how I feel."
Clips of several pieces of the channel's content are featured, including an interview with author Ta-Nehisi Coates, the All Ways Black Cypher released this January, and the "word-of-the-week" video about the word "ephemeral," taken from Brandon Taylor's book Filthy Animals and set to rapper Saweetie's 2020 song "Tap In."
The piece praises the authenticity of the channel, Myles' easy rapport with authors, and the engaged community she's developed, citing fellow book influencer Traci Thomas, who runs The Stacks podcast.
"On [other] publishing platforms, they might have a Black intern and then they post something that uses Black vernacular but feels very hollow," says Thomas. "All Ways Black feels super authentic. And I know that that is because Cree is in control and is empowered to do what feels right to her, and her judgment is spot-on."
Listen to the full interview here, and be sure to follow @allwaysblack to stay up to date with the amazing content Cree continues to create for the channel.
For questions about All Ways Black or this interview, contact Anthony Key.
Posted: May 6, 2022