NY Governor Andrew Cuomo to Speak with Billy Joel about AMERICAN CRISIS via Zoom (11/18)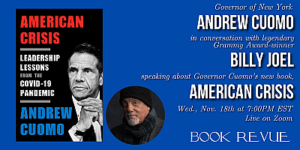 New York Governor Andrew Cuomo will discuss his new book, AMERICAN CRISIS: Leadership Lessons From the COVID-19 Pandemic (Crown), with Grammy Award-winning artist Billy Joel via Zoom on Wednesday, November 18 at 7:00 pm (ET).
Taking readers beyond the candid daily briefings that became must-see TV across the globe, and providing a dramatic, day-by-day account of the catastrophe as it unfolded, AMERICAN CRISIS presents the intimate and inspiring thoughts of a leader at an unprecedented historical moment. In his own voice, Andrew Cuomo chronicles the ingenuity and sacrifice required of so many to fight the pandemic, sharing the decision-making that shaped his policy as well as his frank accounting and assessment of his interactions with the federal government, the White House, and other state and local political and health officials. Including a game plan for what we as individuals—and as a nation—need to do to protect ourselves against this disaster and those to come, this book is a remarkable portrait of selfless leadership and a gritty story of difficult choices that points the way to a safer future for all of us.
Andrew Cuomo is the 56th Governor of New York, serving since 2011. He is also the author of All Things Possible: Setbacks and Success in Politics and Life and Crossroads: The Future of American Politics.
!! As a reminder, if you are posting to a personal or other non-PRH account you must include the hashtag #TeamPRH !!
Posted: November 16, 2020