NYC: Don't Miss RHCB Author Chris Grabenstein at Books of Wonder!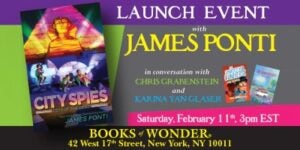 This Saturday, February 11, join Random House Children's' Books Chris Grabenstein, award-winning author of  the MR. LEMONCELLO'S and THE SMARTEST KID IN THE UNIVERSE series, at Books of Wonder for a panel event with James Ponti, Karina Yan Glaser, and Sayantani DasGupta!
Event Details
Saturday, February 11th at 3pm ET
Location: Books of Wonder, 42 W 17th St, New York, NY 10011
Don't miss out and be sure to register here!
Posted: February 9, 2023