NYC: The Strand to Celebrate the Launch of IMPOSTER SYNDROME AND OTHER CONFESSIONS OF ALEJANDRA KIM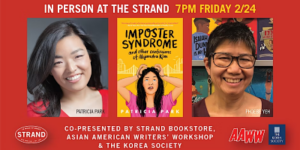 Join Patricia Park in conversation with Phoebe Yeh at The Strand to celebrate the launch of IMPOSTER SYNDROME AND OTHER CONFESSIONS OF ALEJANDRA KIM (Crown Books for Young Readers), co-sponsored by The Asian American Writers' Workshop and The Korea Society.
Event Details:
Friday, February 24 at 7pm ET
Location: The Strand, 828 Broadway, New York, NY 10003
Purchase a ticket here!
About IMPOSTER SYNDROME
Alejandra Verónica Kim doesn't feel like she belongs anywhere. At her wealthy Manhattan high school, her super Spanish name and super Korean face do not compute to her mostly white classmates and teachers. In her Jackson Heights neighborhood, she's not Latinx enough. Even at home, Ale feels unwelcome. And things at home have only gotten worse since Papi's body was discovered on the subway tracks. Ale wants nothing more than to escape the city for the wide-open spaces of the prestigious Wyder University. But when a microaggression at school thrusts Ale into the spotlight—and into a discussion she didn't ask for—Ale must discover what is means to carve out a space for yourself to belong. Patricia Park's coming-of-age novel about a multicultural teen caught between worlds, and the future she is building for herself, is an incisive, laugh-out-loud, provocative read.
About Patricia Park
Patricia Park was born and raised in New York City. She earned her BA in English from Swarthmore College and an MFA in Fiction from Boston University, where she studied with Ha Jin and Allegra Goodman. A former Fulbright Scholar and Emerging Writer Fellow at the Center for Fiction, she has published essays in The New York Times, Slice, and The Guardian. She lives in Brooklyn, New York.
Posted: February 23, 2023