NYT Bestselling Writer R.J. Palacio Reteams with Lionsgate and Mandeville Films Producers for WHITE BIRD: A Wonder Story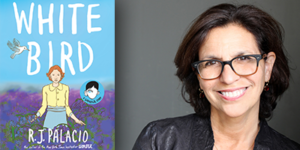 After nurturing the New York Times bestselling novel, WONDER, into a sleeper hit and box office phenomenon that grossed more than $305 million worldwide, global content leader Lionsgate is developing bestselling author R.J. Palacio's forthcoming graphic novel WHITE BIRD: A Wonder Story into a feature film. Mandeville Films' David Hoberman and Todd Lieberman produced WONDER alongside Palacio, and the three are joining forces again to produce the new feature film. The acquisition was announced today by Nathan Kahane, President of the Lionsgate Motion Picture Group.
WHITE BIRD: A Wonder Story is being released into bookstores today by publishing company Alfred A. Knopf. The WHITE BIRD International tour also kicks off today, Launching in Montclair, NJ with Watchung Booksellers. Highlights of the tour include a moderated conversation with New York Times Graphic Novel Columnist, Ed Park at Temple Beth Elohim in Brooklyn, NY on November 10, a moderated Conversation with #1 New York Times bestselling author Jeff Kinney (Wimpy Kid) at his store, An Unlikely Story, on October 4, and programming at the Texas Book Festival (10/26). Additional stops include Boston, Philadelphia, Seattle, Bowling Green, and more! R.J. Palacio will also visit Vancouver (arranged by PRH Canada), London, Amsterdam, and Scotland (arranged by PRH UK).
WONDER chronicles the most unlikely of heroes following the journey of Auggie Pullman, a boy born with facial differences that prevents him from going to a mainstream school. As he enters the local fifth grade, his family, his new classmates, and the larger community all struggle to discover their compassion and acceptance, and Auggie's extraordinary journey unites them and proves you can't blend in when you were born to stand out. The film stars Julia Roberts, Owen Wilson, and Jacob Tremblay. The novel is an international publishing sensation for Alfred A Knopf, spending more than seven years on the New York Times bestseller list. R.J. Palacio's books have sold more than 15 million copies with editions published in fifty three languages.
WONDER and WHITE BIRD are connected, unforgettable stories of the power of kindness and unrelenting courage — this one set during a time of war.
With WHITE BIRD, Palacio writes a story of a young Jewish girl hidden away by a boy and his family in Nazi-occupied France during World War II. Recounted by Grandmere to her grandson, Julian, a character already known to those familiar with Wonder, Grandmere's story about her childhood—her fairy-tale life before the war, how everything abruptly changed when the Nazi's occupied France, and how the boy she and her classmates once shunned becomes her savior and best friend — is transformational for Julian. It is his evolution, as well as Grandmere's extraordinary story, that helps White Bird movingly demonstrate the power of kindness to change hearts, build bridges, and even save lives.
"Lionsgate is enormously proud of our association with world class writers who speak from the heart and soul and with a powerful, authentic voice. There can be no more important, hopeful or inspirational message today than those found in R.J.'s books. She is an extraordinary talent," said Kahane. "WHITE BIRD like WONDER is about taking risks, taking a stand and the power of kindness. It is about the power and consequences of being brave and we are thrilled to be adapting White Bird together with her and Mandeville Films."
"The team at Lionsgate values artists and storytellers and has been crucial to expanding the fan community surrounding WONDER," said Palacio. "They have been enormously supportive as I have been writing WHITE BIRD and I could not feel more secure that my new graphic novel is in the right creative hands at the right studio."
"R.J. Palacio is a gifted story teller and has a way of teaching through her stories in such a beautiful way," said Hoberman and Lieberman. "WHITE BIRD is such a story that the whole world should read and we look forward to bringing it to the screen."
Posted: October 1, 2019