NYT Praise for Julie Kim's WHERE'S HALMONI? Picture Book Sparks Sales Jump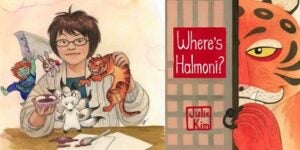 WHERE'S HALMONI? , the debut picture book by author/illustrator Julie Kim, published in 2017 by Little Bigfoot, the children's imprint of Sasquatch Books (a wholly-owned  PRHPS client publisher), recently earned praise in a New York Times Opinion column by Jay Caspian Kang.  This NYT recommendation sparked a nice sales jump for the title. 
In his piece, Kang writes that he is "thinking about the books my daughter, who just turned 5, will encounter and how they may shape the way she thinks about the world, particularly when it comes to race and inequality." Among the books Kang references are Dr. Ibram X. Kendi's ANTIRACIST BABY (Kokila), Mildred D. Taylor's ROLL OF THUNDER, HEAR MY CRY (Dial Books for Young Readers), and WHERE'S HALMONI?, which features two young Korean American siblings who take a trip through a magical portal into a land filled with characters from old Korean fables.  Kang offers this praise:  "The genius of Kim's book is that the two kids have started to lose their ability to speak Korean and cannot really understand what the rabbits, goblins and tigers are saying to them. Kim, then, is making a statement about the loss of culture among children of immigrants while also writing a book that returns some of that to them."
Beautifully illustrated and written, this picture book—illustrated in a graphic novel style—follows young Korean siblings whose search for their missing grandmother (halmoni) leads them into a world inspired by Korean folklore, complete with mischievous goblins (dokkebi), a greedy tiger, a clever rabbit, and a wily fox.
Filled with a number of Easter eggs for readers of all ages to discover and inspired by the folktales author and illustrator Julie Kim heard growing up in Korea, this unique novel introduces young readers to elements of Korean culture and folklore. Translations of Korean text in the story and more about the characters are included in the back matter.
 A follow-up title, Where's Joon? , will be published in Fall 2023.
Julie Kim is an author and illustrator living in Seattle, WA. A graduate of the Rhode Island School of Design, her illustrations have been featured in several children's books including My Special Space, The Mysterious Spinners, and Gloria's First Day. Kim's work has also been featured in magazines including Cricket, Cicada, Ladybuy, Babybug, Scholastic, and Mondo. WHERE'S HALMONI? is her authorial debut.
Little Bigfoot, Sasquatch Books' children's imprint, draws inspiration from the natural wonders of the PNW and the diverse population that lives there.  The imprint publishes richly illustrated board books and picture books that spark curiosity and engage the imagination of young readers and their families.
Posted: January 24, 2022