Obama Administration White House Photographer Opens Windows Into His "Front Row Seat to History"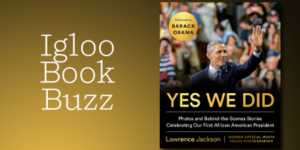 Our new Igloo Book Buzz selection is YES WE DID: Photos and Behind-the-Scenes Stories Celebrating Our First African American President by Lawrence Jackson and published by TarcherPerigee. When Mr. Jackson took the job as White House photographer in early 2009, he knew he'd have a front row seat to history. What he didn't expect was the deep personal connection he would feel, as a fellow African American, with the President of the United States. YES WE DID is a celebration of the most inclusive and representative White House in history – where in between momentous and pivotal decisions, the President and First Lady opened the doors of the People's House to schoolkids, athletes, senior citizens, hip-hop artists, and more.
"What started out as a book of pictures quickly turned into personal reflections of my time covering the first African-American President and First Lady of the United States," says Lawrence Jackson. "Writing and editing this book helped me look back at those eight years with 20/20 vision. I took the job thinking it would be something special. I left the job knowing they had touched millions of people with their story and helped millions more see a better opportunity for themselves. YES WE DID reflects that spirit and promise. "
TarcherPerigee VP & Editor-in-Chief Marian Lizzi: "Editing this book has been a great pleasure, from start to finish. Lawrence and I spent a lot of time talking through how best to present the unique perspective he had as the only photographer of color in the Obama White House for eight years. I was repeatedly struck by his ability to convey subtle moments in both images and words – the President gleefully playing Rock, Paper, Scissors with teens at a community center, or deeply immersed in conversation with top officials in the Oval Office, or genuinely grateful to have met the families of White House staffers, including Lawrence's.
"There's a presence and humanity in these photos and the stories that accompany them. We looked at hundreds of images together, spread out on conference-room tables and also remotely, playing around with photo selection and even different crop lines. It was a window into how Lawrence sees what others don't–capturing an intimate side of the President while conveying the weight and historic import of being 'the first.' YES WE DID is one of those special projects I'll always be proud to have worked on."
Posted: November 20, 2019