Oliver Boydell, 11-Year-Old Chess Champion, to Publish Book of Tips With RHCB This Fall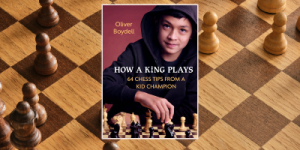 Random House Children's Books will publish HOW A KING PLAYS, a book of chess tips and strategies by eleven-year-old chess champion Oliver Boydell this fall, it was announced by Tom Russell, Vice President & Publisher of Reference and Workbooks at RHCB. The book will be published on November 9, 2021. Russell acquired world rights and will edit the project alongside Brett J. Wright, Senior Editor.
HOW A KING PLAYS is a stylish and compact book featuring 64 different tips (one for each square on the chessboard) with ideas and strategies to help chess enthusiasts of all levels strengthen their game skills. An author introduction, inspirational quotes from chess greats, and a glossary of chess terms help round out this hip reference book.
Says Tom Russell: "At eleven years old, Oliver Boydell is already an extraordinarily accomplished and impressive chess player. His passion and unique skill for chess shine through on every page, making this book a must-read for players of every level. Interest in the game has risen to new heights, due to people spending more time playing at home during the pandemic and the popularity of TV shows like The Queen's Gambit. It feels like chess is having a moment, and Oliver is the perfect messenger!"
Oliver Boydell says, "I have always loved chess and its beautiful ideas. I've gotten so much from this extraordinary game. Opening, middlegame, and endgame tactics and strategy, the great principles of chess—I've learned from it all and enjoyed it deeply. With this book, I've tried to show the game's important concepts, in clear and practical ways, while sharing my own special joy for chess."
Boydell was born in New York City to a Vietnamese mother and an English father. A National Chess Champion and a New York City Chess Champion, Oliver developed a passion for chess at the age of five. He started competing in chess tournaments during the same year and is a regular contender at New York City, New York State, and National Scholastic Chess Championships. Oliver endeavors to become a chess Grandmaster. He has been profiled in The New York Times and has appeared on Good Morning America. His first book, He's Got Moves, was published by Metabook Entertainment in December 2020. Visit him online at oliverboydell.com
Posted: June 8, 2021