Oliver Jeffers Shares His New Picture Book WHAT WE'LL BUILD via Crowdcast (10/8)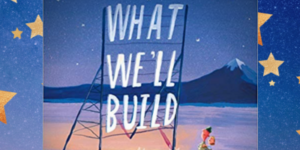 Oliver Jeffers, author and illustrator of WHAT WE'LL BUILD: Plans For Our Future Together (Philomel), will present his new picture book at a virtual event hosted by Books & Books via Crowdcast on Thursday, October 8 at 5:00 pm (ET).
From internationally bestselling and world-renowned picture book creator comes the companion to the #1 New York Times bestseller Here We Are!
What shall we build, you and I?
Let's gather all our tools for a start.
For putting together . . .
and taking apart.
A father and daughter set about laying the foundations for their life together. Using their own special tools, they get to work, building memories to cherish, a home to keep them safe, and love to keep them warm. A rare and enduring story about a parent's boundless love, life's endless opportunities, and all we need to build a together future.
Oliver Jeffers makes art and tells stories. From his much-loved debut, How to Catch a Star, he has gone on to create a collection of award-winning and bestselling picture books, which have been translated all over the globe, including the #1 New York Times bestseller and TIME Best Book of the Year Here We Are. Oliver is from Belfast, Northern Ireland, and now lives and works in Brooklyn, New York, with his wife and young children.
!! As a reminder, if you are posting to a personal or other non-PRH account you must include the hashtag #TeamPRH !!
Posted: October 7, 2020