On "60 Minutes," Colson Whitehead Discusses His Writing Process, Books, and More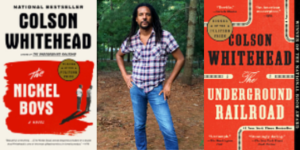 Colson Whitehead, author of the Pulitzer Prize-winning novels THE NICKEL BOYS and THE UNDERGROUND RAILROAD, appeared on CBS-TV's "60 Minutes" Sunday night, February 28, in conversation with correspondent John Dickerson. Whitehead talked with Dickerson about a number of topics, including his writing process, his books, being descended from slaves, and Barry Jenkins' highly-anticipated adaptation of THE UNDERGROUND RAILROAD for Amazon Prime. In the hours after the 12-minute segment aired, THE UNDERGROUND RAILROAD rose to #1 on Amazon's bestseller list, followed by THE NICKEL BOYS at #2.
Here are selected excerpts from the "60 Minutes" interview:
John Dickerson: Do you write for yourself or do you write for the audience?
Colson Whitehead: "Really for me, which sounds very selfish. Should I have written a zombie novel (ZONE ONE)? It made perfect sense to me. I grew up loving horror movies and then horror fiction. Is that something I should be doing as a literary author? I don't know. And there's no handbook. You know? And if it gives me pleasure, if it's exciting, you know, our time on earth is pretty short. I should be doing what I– what I feel like I should be doing."
JD: The fact that The Underground Railroad is an actual railroad, why was that important and what did that help you do in terms of giving people a new way to look at something that is– that they think they know?
CW: "Well, the premise is this fantastic conveyance will take you around different points in history– these alternative Americas. And so immediately it's not real 19th century America and I can do what I want. And so sometimes by not coming at things the right way, by coming at them sideways, we see them– see them a different way and they make more sense."
JD: Was there a puzzle — part of the puzzle that you thought, okay, I'm ready to solve this piece now?
CW: "I think deciding on the female protagonist was an important piece. Being an enslaved woman, it's much different than being an enslaved man. Your body is not your own, obviously, and you're supposed to pump out babies because more babies means more property, more slaves. And when you become a woman you enter a new sort of more terrible phase of— of being enslaved. And I thought that was worth writing about."
To watch the "60 Minutes" conversation between Whitehead and Dickerson, click here.
Posted: March 2, 2021