On Sale This Week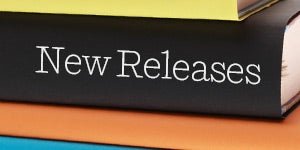 On Sale This Week previews a selection of Penguin Random House fiction, nonfiction, poetry and young readers books being published each week. The choices are a mix of titles by both bestselling and emerging authors. We hope this serves as a useful reference for hot new reads hitting shelves everywhere.
FICTION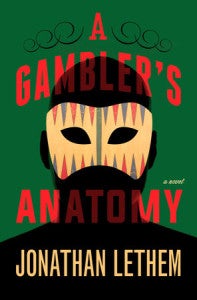 A GAMBLER'S ANATOMY by Jonathan Lethem (Doubleday)
Handsome, impeccably tuxedoed Bruno Alexander travels the world winning large sums of money from amateur "whales" who think they can challenge his peerless acumen at backgammon. Fronted by his pasty, vampiric manager, Edgar Falk, Bruno arrives in Berlin after a troubling run of bad luck in Singapore. Perhaps it was the chance encounter with his crass childhood acquaintance Keith Stolarsky and his smoldering girlfriend Tira Harpaz. Or perhaps it was the emergence of a blot that distorts his vision so he has to look at the board sideways. Things don't go much better in Berlin. Bruno's flirtation with Madchen, the striking blonde he meets on the ferry, is inconclusive; the game at the unsettling Herr Kohler's mansion goes awry as his blot grows worse; he passes out and is sent to the local hospital, where he is given an extremely depressing diagnosis.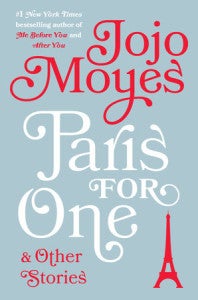 PARIS FOR ONE AND OTHER STORIES by Jojo Moyes (Pamela Dorman Books)
From the #1 New York Times bestselling author of ME BEFORE YOU and AFTER YOU, PARIS FOR ONE AND OTHER STORIES is an irresistibly romantic collection filled with humor and heart. Nell is twenty-six and has never been to Paris. She's never even been on a romantic weekend away—to anywhere—before. Traveling abroad isn't really her thing. But when Nell's boyfriend fails to show up for their mini-vacation, she has the opportunity to prove everyone—including herself—wrong.  Alone in Paris, Nell finds a version of herself she never knew existed: independent and intrepid. Could this turn out to be the most adventurous weekend of her life? Funny, charming, and irresistible, PARIS FOR ONE is quintessential Jojo Moyes—as are the other stories that round out the collection.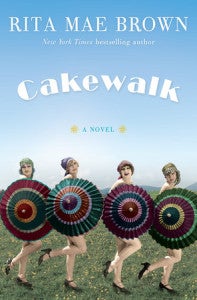 CAKEWALK by Rita Mae Brown (Bantam)
The night a riot breaks out at the Capitol Theater movie house—during a Mary Pickford picture, no less—you can bet that the Hunsenmeir sisters, Louise and Julia, are nearby. Known locally as Wheezie and Juts, the inimitable, irrepressible, distinctly freethinking sisters and their delightful circle of friends are coming of age in a shifting world—and are determined to understand their place in it. Across town, the well-to-do Chalfonte siblings are preparing for the upcoming wedding of brother Curtis. But for youngest sister Celeste, the celebration brings about a change she never expected and a lesson about love she'll not soon forget. Set against the backdrop of America emerging from World War I, Cakewalk is an outrageous and affecting novel about a small town where ideas of sin and virtue, love and sex, men and women, politics and religion, can be as divided as the Mason-Dixon Line that runs right through it.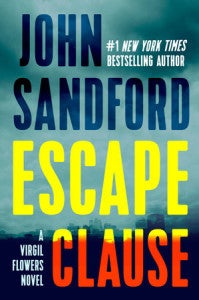 ESCAPE CLAUSE by John Sandford (Putnam)
The first storm comes from, of all places, the Minnesota zoo. Two large, and very rare, Amur tigers have vanished from their cage, and authorities are worried sick that they've been stolen for their body parts. Traditional Chinese medicine prizes those parts for home remedies, and people will do extreme things to get what they need. Some of them are a great deal more extreme than others—as Virgil is about to find out. Then there's the homefront. Virgil's relationship with his girlfriend Frankie has been getting kind of serious, but when Frankie's sister Sparkle moves in for the summer, the situation gets a lot more complicated. For one thing, her research into migrant workers is about to bring her up against some very violent people who emphatically do not want to be researched. For another…she thinks Virgil's kind of cute.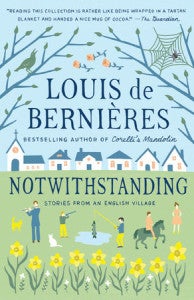 NOTWITHSTANDING by Louis de Bernieres (Vintage)
As the world around it marches forward, the bucolic English village of Notwithstanding remains unchanged. It is, as it always has been, a place of pubs and cricket pitches, where local eccentrics—a retired colonel who has eschewed clothes, a spiritualist living with the ghost of her husband, and a dog named Archibald Scott-Moncrieff—almost fit in. In this delightfully evocative collection of stories, in which a young couple falls in and out of love by letter alone, an eleven-year-old boy battles a monstrous fish, and a man of the cloth has a premonition of death, Louis de Bernières conjures up a rural idyll long since forgotten. Funny, bittersweet, and deeply felt, NOTWITHSTANDING is the bestselling author of CORELLI'S MANDOLIN at his most enchanting.
NONFICTION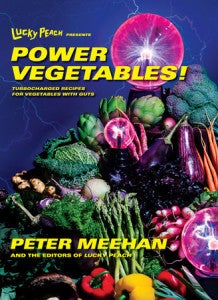 LUCKY PEACH PRESENTS POWER VEGETABLES! by Peter Meehan and the Editors of Lucky Peach (Clarkson Potter)
Mostly vegetarian and infrequently vegan, the recipes in LUCKY PEACH PRESENTS POWER VEGETABLES! are all indubitably delicious. The editors of Lucky Peach have colluded to bring you a portfolio of meat-free cooking that even carnivores can get behind. Designed to bring BIG-LEAGUE FLAVOR to your WEEKNIGHT COOKING, this collection of recipes, developed by the Lucky Peach test kitchen and chef friends, features trusted strategies for adding oomph to produce with flavors that will muscle meat out of the picture.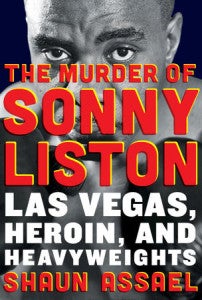 THE MURDER OF SONNY LISTON by Shaun Assel (Blue Rider Press)
On January 5, 1971, Sonny Liston was found dead in his home—of an apparent heroin overdose. But no one close to Liston believed that his death was acci­dental. Digging deep into a life that Liston tried hard to hide, investigative journalist Shaun Assael treats the boxer's death as a cold case. The result is a page-turning who­dunit that evokes a glorious and grimy era of Las Vegas. THE MURDER OF SONNY LISTON takes a fresh look at the legendary boxer, the town he called home, and one of America's most enduring mysteries.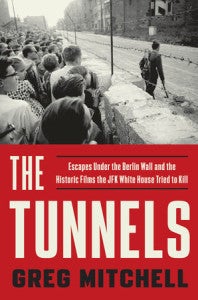 THE TUNNELS by Greg Mitchell (Crown)
In the summer of 1962, the year after the rise of the Berlin Wall, a group of young West Germans risked prison, Stasi torture, and even death to liberate friends, lovers, and strangers in East Berlin by digging tunnels under the Wall. Then two U.S. television networks heard about the secret projects and raced to be first to document them from the inside. NBC and CBS funded two separate tunnels in return for the right to film the escapes, planning spectacular prime-time specials. President John F. Kennedy, however, was wary of anything that might spark a confrontation with the Soviets, having said, "A wall is better than a war," and even confessing to Secretary of State Dean Rusk, "We don't care about East Berlin." JFK approved unprecedented maneuvers to quash both documentaries, testing the limits of a free press in an era of escalating nuclear tensions.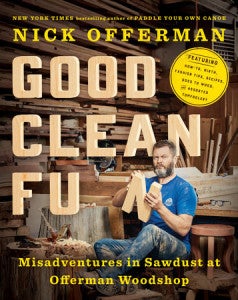 GOOD CLEAN FUN: Misadventures in Sawdust at Offerman Woodshop by Nick Offerman (Dutton)
Nestled among the glitz and glitter of Tinseltown is a testament to American elbow grease and an honest-to-god hard day's work: Offerman Woodshop. Captained by hirsute woodworker, actor, comedian, and writer Nick Offerman, the shop produces not only fine handcrafted furniture, but also fun stuff—kazoos, baseball bats, ukuleles, mustache combs, even cedar-strip canoes. Now Nick and his ragtag crew of champions want to share their experience of working at the Woodshop, tell you all about their passion for the discipline of woodworking, and teach you how to make a handful of their most popular projects along the way. This book takes readers behind the scenes of the woodshop, both inspiring and teaching them to make their own projects and besotting them with the infectious spirit behind the shop and its complement of dusty wood-elves.
POETRY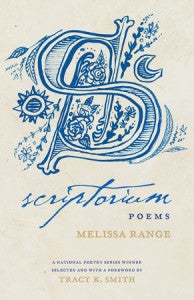 SCRIPTORIUM by Melissa Range (Beacon Press)
The poems in SCRIPTORIUM are primarily concerned with questions of religious authority. The medieval scriptorium, the central image of the collection, stands for that authority but also for its subversion; it is both a place where religious ideas are codified in writing and a place where an individual scribe might, with a sly movement of the pen, express unorthodox religious thoughts and experiences. In addition to exploring the ways language is used, or abused, to claim religious authority, SCRIPTORIUM also addresses the authority of the vernacular in various time periods and places, particularly in the Appalachian slang of the author's East Tennessee upbringing. Throughout SCRIPTORIUM, the historical mingles with the personal: poems about medieval art, theology, and verse share space with poems that chronicle personal struggles with faith and doubt.
YOUNG READERS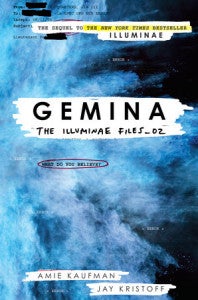 GEMINA by Amie Kaufman and Jay Kristoff (Knopf Books for Young Readers)
The sci-fi saga that began with the breakout bestseller ILLUMINAEcontinues on board the Jump Station Heimdall, where two new characters will confront the next wave of the BeiTech assault. Hanna is the station captain's pampered daughter; Nik the reluctant member of a notorious crime family. But while the pair are struggling with the realities of life aboard the galaxy's most boring space station, little do they know that Kady Grant and the Hypatia are headed right toward Heimdall, carrying news of the Kerenza invasion. Once again told through a compelling dossier of emails, IMs, classified files, transcripts, and schematics, GEMINA raises the stakes of the Illuminae Files, hurling readers into an enthralling new story that will leave them breathless.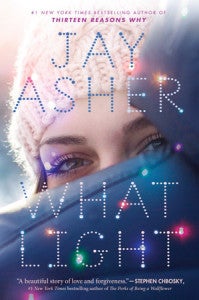 WHAT LIGHT by Jay Asher (Razorbill)
Sierra's family runs a Christmas tree farm in Oregon—it's a bucolic setting for a girl to grow up in, except that every year, they pack up and move to California to set up their Christmas tree lot for the season. So Sierra lives two lives: her life in Oregon and her life at Christmas. And leaving one always means missing the other. Until this particular Christmas, when Sierra meets Caleb, and one life eclipses the other. By reputation, Caleb is not your perfect guy: years ago, he made an enormous mistake and has been paying for it ever since. But Sierra sees beyond Caleb's past and becomes determined to help him find forgiveness and, maybe, redemption. As disapproval, misconceptions, and suspicions swirl around them, Caleb and Sierra discover the one thing that transcends all else: true love.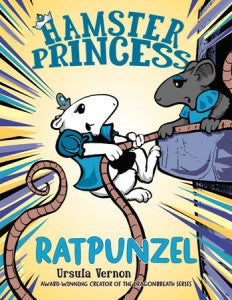 HAMSTER PRINCESS: RATPUNZEL by Ursula Vernon (Dial Books for Young Readers)
Princess Harriet Hamsterbone does not like sitting around at home. How's a princess supposed to have any fun when her parents are constantly reminding her to be careful and act princessly? So when her pal Prince Wilbur needs help finding a stolen hydra egg, Harriet happily takes up the quest.  The thief's trail leads them to a wicked witch and a tall tower, occupied by a rat whose tail has more to it than meets the eye! The third book in the award-winning comic hybrid Hamster Princess series will make you look at rodents, royalty, and fairy tales in a whole new light.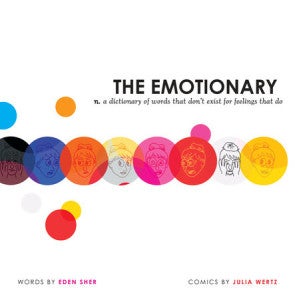 THE EMOTIONARY by Eden Sher (Razorbill)
All her life, Eden Sher has suffered from dyscommunicatia (n. the inability to articulate a feeling through words.). Then, one day, she decided that, whenever she had an emotion for which she had no word, she would make one up. The result of this is The Emotionary, which lives at the intersection of incredibly funny and very useful. Chock full of words you always wanted/never knew you needed, often accompanied by illustrations of hilarious and all-too-familiar situations, The Emotionary will be a cherished tool for you or the world-class feelings-haver in your life.
Posted: October 17, 2016