On Sale This Week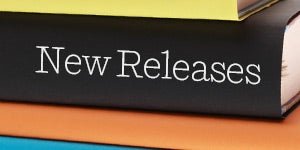 On Sale This Week previews a selection of Penguin Random House fiction, nonfiction, poetry and young readers books being published each week. The choices are a mix of titles by both bestselling and emerging authors. We hope this serves as a useful reference for hot new reads hitting shelves everywhere.
FICTION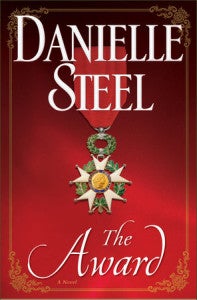 THE AWARD by Danielle Steel (Delacorte Press)
Gaëlle de Barbet is sixteen years old in 1940 when the German army occupies France and frightening changes begin to occur. She is powerless when French gendarmes take away her closest friend, Rebekah Feldmann, and her family for deportation to an unknown, ominous fate. Gaëlle begins a perilous journey with the French Resistance, hoping to save lives to make up for the beloved friend she could do nothing to help. Taking terrifying risks, Gaëlle becomes a valuable member of the Resistance. Gaëlle's life will take her from Paris to New York, from a career as a Dior model to marriage and motherhood, unbearable loss, and mature, lasting love. She returns to Paris to run a small museum, but her label as a collaborator remains, until her granddaughter, a respected political journalist, ensures that her grandmother's brave acts are recognized.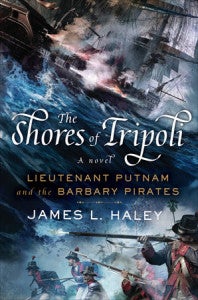 THE SHORES OF TRIPOLI by James L. Haley (Putnam)
It is 1801 and President Thomas Jefferson has assembled a deep-water navy to fight the growing threat of piracy, as American civilians are regularly kidnapped by Islamist brigands and held for ransom, enslaved, or killed, all at their captors' whim. The Berber States of North Africa, especially Tripoli, claimed their faith gave them the right to pillage anyone who did not submit to their religion. Young Bliven Putnam, great-nephew of Revolutionary War hero Israel Putnam, is bound for the Mediterranean and a desperate battle with the pirate ship Tripoli. He later returns under legendary Commodore Edward Preble on the Constitution, and marches across the Libyan desert with General Eaton to assault Derna—discovering the lessons he learns about war, and life, are not what he expected.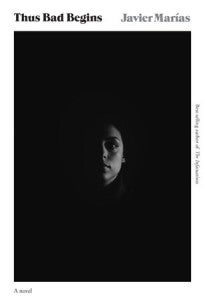 THUS BAD BEGINS by Javier Marias (Knopf)
Madrid, 1980. Juan de Vere, nearly finished with his university degree, takes a job as personal assistant to Eduardo Muriel, an eccentric, once-successful film director. Urbane, discreet, irreproachable, Muriel is an irresistible idol to the young man. But Muriel's voluptuous wife, Beatriz, inhabits their home like an unwanted ghost; and on the periphery of their lives is Dr. Jorge Van Vechten, a family friend implicated in unsavory rumors that Muriel now asks Juan to investigate. As Juan draws closer to the truth, he uncovers only more questions. What is at the root of Muriel's hostility toward his wife? How did Beatriz meet Van Vechten? What happened during the war? Marías leads us deep into the intrigues of these characters, through a daring exploration of rancor, suspicion, loyalty, trust, and the infinitely permeable boundaries between the deceptions perpetrated on us by others and those we inflict upon ourselves.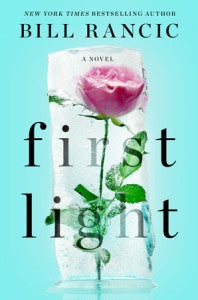 FIRST LIGHT by Bill Rancic (Putnam)
Set amid the wild woods of the Yukon, FIRST LIGHT tells the story of Daniel Albrecht and Kerry Egan, young lovers leaving a work trip in Alaska to plan their wedding back home in Chicago. Not long into their trip, both engines of their plane catch fire and send them careening into a mountainside in the middle of a terrible snowstorm. Kerry is seriously injured in the accident, and it soon becomes clear that search-and-rescue teams aren't going to find the survivors in time to save her. Daniel—the one person with survival experience amid the passengers—makes the courageous decision to find help and bring it back to the rest of the passengers, hoping against hope he might save the woman he loves.
NONFICTION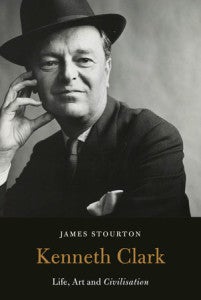 KENNETH CLARK by James Stourton (Knopf)
The definitive biography of this brilliant polymath–director of the National Gallery, author, patron of the arts, social lion, and singular pioneer of television–that also tells the story of the arts in the twentieth century through his astonishing life. Kenneth Clark's thirteen-part 1969 television series, Civilisation, established him as a globally admired figure. Clark was prescient in making this series: the upheavals of the century, the Cold War among others, convinced him of the power of barbarism and the fragility of culture. He would burnish his image with two memoirs that artfully omitted the more complicated details of his life. Now, drawing on a vast, previously unseen archive, James Stourton reveals the formidable intellect and the private man behind the figure who effortlessly dominated the art world for more than half a century.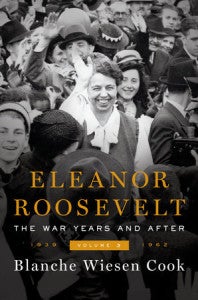 ELEANOR ROOSEVELT, VOLUME 3: The War Years and After, 1939-1962 by Blanche Wiesen Cook (Viking)
Historians, politicians, critics, and readers everywhere have praised Blanche Wiesen Cook's biography of Eleanor Roosevelt as the essential portrait of a woman who towers over the twentieth century. The third and final volume takes us through World War II, FDR's death, the founding of the UN, and Eleanor Roosevelt's death in 1962. It follows the arc of war and the evolution of a marriage, as the first lady realized the cost of maintaining her principles even as the country and her husband were not prepared to adopt them. This is a sympathetic but unblinking portrait of a marriage and of a woman whose passion and commitment has inspired generations of Americans to seek a decent future for all people. Modest and self-deprecating, a moral force in a turbulent world, Eleanor Roosevelt was unique.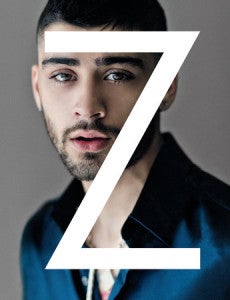 ZAYN by Zayn (Delacorte Press)
The first and only official book from ZAYN. Global superstar ZAYN shares a photographic journey of his life since leaving One Direction. ZAYN opens up with this collection of thoughts, inspiration, and never-before-seen personal photographs. After five years of massive success with One Direction, ZAYN launched his career as a solo artist with Mind of Mine, becoming one of the most successful artists in the world. Now, for the first time ever, ZAYN is going to tell and show all in this intimate and raw scrapbook of his life. Never-before-released photos give readers insight to ZAYN, no-holds-barred. With hundreds of full-color photographs and ZAYN's notes, drawings, song lyrics, and personal stories, the book captures ZAYN's most private moments and his candid feelings on fame, success, music, and life.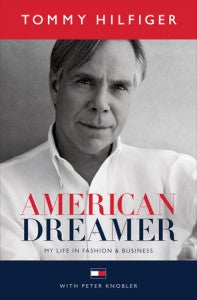 AMERICAN DREAMER by Tommy Hilfiger and Peter Knobler (Ballantine)
AMERICAN DREAMER brims with anecdotes that cover Tommy's years as a club kid and scrappy entrepreneur in 1970s New York as well as unique insights into the exclusive A-list personalities with whom he's collaborated and interacted, from Mick Jagger and David Bowie to Ralph Lauren and Calvin Klein. But this is more than just a fashion icon's memoir—it's a road map for building a brand, both professionally and personally. Tommy takes us behind the scenes of every decision—and every mistake—he's ever made, offering advice on leadership, business, team-building, and creativity. This is the story of a true American original, told for the first time in his own words, with honesty, humor, and the insatiable appetite for life and style that proves that sometimes you have to dream big to make it big.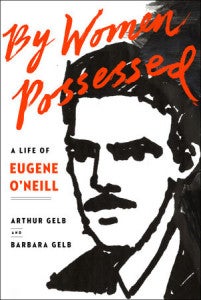 BY WOMEN POSSESSED by Arthur Gelb and Barbara Gelb (Putnam)
This is a tour through both a magical moment in American theater and the troubled life of a genius. Not a peep show or a celebrity gossip fest, this book is a brilliant investigation of the emotional knots that ensnared one of our most important playwrights. Handsome, charming when he wanted to be: O'Neill was the flame women were drawn to—all, that is, except his mother, who never let him forget he was unwanted. BY WOMEN POSSESSED follows O'Neill through his great successes, the failures he was able to shrug off, and the long eclipse, a twelve-year period in which, despite the Nobel, nothing he wrote was produced. But ahead lay his greatest achievements: The Iceman Cometh and Long Day's Journey into Night. Both were ahead of their time and both received lukewarm receptions.
YOUNG READERS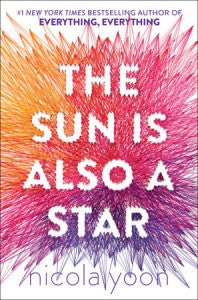 THE SUN IS ALSO A STAR by Nicola Yoon (Delacorte Press)
Natasha: I'm a girl who believes in science and facts. Not fate. Not destiny. Or dreams that will never come true. I'm definitely not the kind of girl who meets a cute boy on a crowded New York City street and falls in love with him. Not when my family is twelve hours away from being deported to Jamaica. Falling in love with him won't be my story. Daniel: I've always been the good son, the good student, living up to my parents' high expectations. Never the poet. Or the dreamer. But when I see her, I forget about all that. Something about Natasha makes me think that fate has something much more extraordinary in store—for both of us. The Universe: Every moment in our lives has brought us to this single moment. A million futures lie before us. Which one will come true?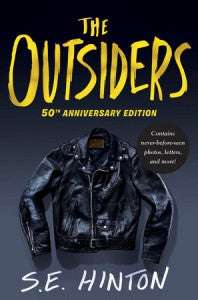 THE OUTSIDERS 50TH ANNIVERSARY EDITION by S.E. Hinton (Penguin Books)
Celebrating 50 years of the novel that laid the groundwork for the YA genre, this is the ultimate edition for fans of THE OUTSIDERS. A perfect way to honor this impressive milestone and a must-have for fans of all ages. This special edition of the groundbreaking novel contains: never before seen photos and letters from the publisher's archives, original review clippings and media coverage, photos from the author's personal collection, a gallery of covers around the world, new material from the stars and director of the iconic film–including Francis Ford Coppola, Rob Lowe, Matt Dillon, and others, and much more!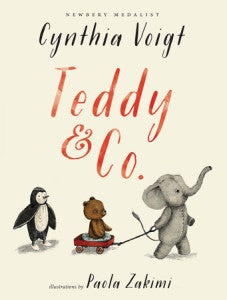 TEDDY & CO. by Cynthia Voigt, illustrated by Paola Zakimi (Knopf Books for Young Readers)
Teddy is a thinking kind of bear. Of all his friends, he does the most wondering. He lives with a ragtag group of lost toys—a very hungry snake, an elephant who likes to bake, two charmingly silly pigs, and a reclusive penguin—and they all bump along happily together. But their peaceful world gets shaken up when new toys arrive—first a rabbit, who is not as soft and floppy as he looks, and then a beautiful doll with royal ambitions. Will the newcomers learn to fit into the community? Or will the community be forever changed by them? As Teddy the philosopher would answer: Yes. Cynthia Voigt's charming tale of community and compromise comes alive in the adorable pictures from Paola Zakimi.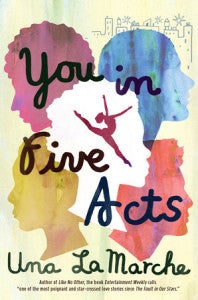 YOU IN FIVE ACTS by Una Lamarche (Razorbill)
At a prestigious New York City performing arts school, five friends connect over one dream of stardom. But for Joy, Diego, Liv, Ethan and Dave, that dream falters under the pressure of second-semester, Senior year. Ambitions shift and change, new emotions rush to the surface, and a sense of urgency pulses between them: Their time together is running out. Diego hopes to get out of the friend zone. Liv wants to escape, losing herself in fantasies of the new guy. Ethan conspires to turn his muse into his girlfriend. Dave pines for the drama queen. And if Joy doesn't open her eyes, she could lose the love that's been in front of her all along.
Posted: October 31, 2016