On Sale This Week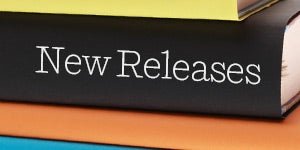 Our On Sale This Week feature previews a selection of Penguin Random House fiction, nonfiction, poetry and young readers books being published each week. The choices are a mix of titles by both bestselling and emerging authors. We hope this serves as a useful reference for hot new reads hitting shelves.
FICTION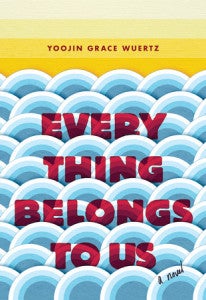 EVERYTHING BELONGS TO US by Yoojin Grace Wuertz (Random House)
Two young women of vastly different means each struggle to find her own way during the darkest hours of South Korea's "economic miracle" in a striking debut novel for readers of Anthony Marra and Chimamanda Ngozie Adichie. In this sweeping yet intimate debut, Yoojin Grace Wuertz details four intertwining lives that are rife with turmoil and desire, private anxieties and public betrayals, dashed hopes and broken dreams—while a nation moves toward prosperity at any cost.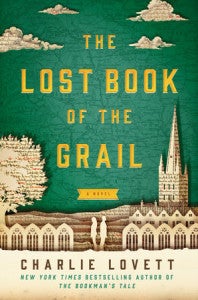 THE LOST BOOK OF THE GRAIL by Charlie Lovett (Viking)
Arthur Prescott is happiest when surrounded by the ancient books and manuscripts of the Barchester Cathedral library. His one respite is his time spent nestled in the library, nurturing his secret obsession with the Holy Grail and researching his perennially unfinished guidebook to the medieval cathedral. But when a beautiful young American named Bethany Davis arrives in Barchester charged with the task of digitizing the library's manuscripts, Arthur's tranquility is broken. Appalled by the threat modern technology poses to the library he loves, he sets out to thwart Bethany, only to find in her a kindred spirit with a similar love for knowledge and books—and a fellow Grail fanatic.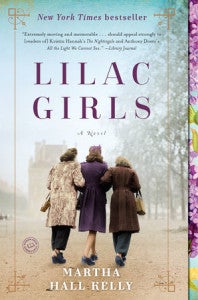 LILAC GIRLS by Martha Hall Kelly (Ballantine)
Now out in paperback, this remarkable debut novel reveals the power of unsung women to change history in their quest for love, freedom, and second chances. The lives of three women Kasia, Caroline and Herta, are set on a collision course when the unthinkable happens and Kasia is sent to Ravensbrück, the notorious Nazi concentration camp for women. Their stories cross continents—from New York to Paris, Germany, and Poland—as Caroline and Kasia strive to bring justice to those whom history has forgotten.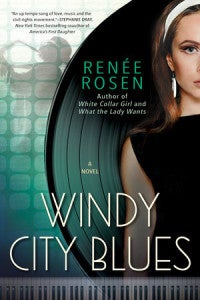 WINDY CITY BLUES by Renée Rosen (Berkley)
In the middle of the twentieth century, the music of the Mississippi Delta arrived in Chicago, drawing the attention of entrepreneurs like the Chess brothers. Their label, Chess Records, helped shape that music into the Chicago Blues, the soundtrack for a transformative era in American History. But, for Leeba Groski, Chess Records was just where she worked. Leeba doesn't exactly fit in, but her passion for music is not lost on her neighbor, Leonard Chess, who offers her a job at his new record company. With their relationship unwelcome in segregated Chicago and the two of them shunned by Leeba's Orthodox Jewish family, Leeba and Red soon find themselves in the middle of the Civil Rights Movement and they discover that, in times of struggle, music can bring people together.
NONFICTION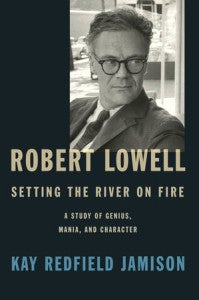 ROBERT LOWELL, SETTING THE RIVER ON FIRE by Kay Redfield Jamison (Knopf)
In his Pulitzer Prize-winning poetry, Robert Lowell put his manic-depressive illness (now known as bipolar disorder) into the public domain, creating a language for madness that was new and arresting. As Dr. Jamison brings her expertise in mood disorders to bear on Lowell's story, she illuminates not only the relationships among mania, depression, and creativity but also the details of Lowell's treatment and how illness and treatment influenced the great work that he produced. Jamison had unprecedented access to Lowell's medical records, as well as to previously unpublished drafts and fragments of poems, and she is the first biographer to have spoken with his daughter, Harriet Lowell. With this new material and a psychologist's deep insight, Jamison delivers a bold, sympathetic account of a poet who was—both despite and because of mental illness—a passionate, original observer of the human condition.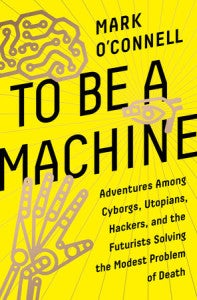 TO BE A MACHINE by Mark O'Connell (Doubleday)
Transhumanism is a movement pushing the limits of our biology—our senses, intelligence, and lifespans—in the hopes that, with technology, we can become something better, something other, than ourselves. Where is our obsession with technology leading us? What does the rise of AI mean not only for our offices and homes, but for our humanity? Could the technologies we create to help us eventually bring us to harm?  Addressing these questions and more, O'Connell presents a thoughtful, provocative, often hilarious look at a growing movement. In investigating what it means to be a machine, he offers a surprising meditation on what it means to be human.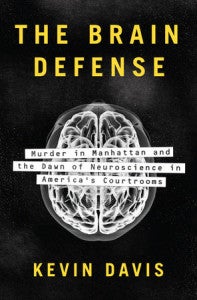 THE BRAIN DEFENSE by Kevin Davis (Penguin Press)
In 1991, the police were called to East 72nd St. in Manhattan, where a woman's body had fallen from a twelfth-story window. The woman's husband, Herbert Weinstein, soon confessed to having hit and strangled his wife after an argument, then dropping her body out of their apartment window to make it look like a suicide. The 65-year-old Weinstein, a quiet, unassuming retired advertising executive, had no criminal record, no history of violent behavior—not even a short temper. How, then, to explain this horrific act? Journalist Kevin Davis uses the perplexing story of the Weinstein murder to present a riveting, deeply researched exploration of the intersection of neuroscience and criminal justice.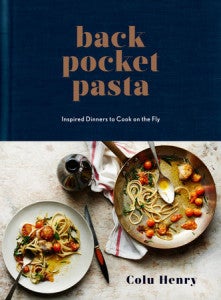 BACK POCKET PASTA by Colu Henry (Clarkson Potter)
As much a mindset as it is a cookbook, BACK POCKET PASTAshows how a well-stocked kitchen and a few seasonal ingredients can be the driving force behind delicious, simply prepared meals. Pantry staples—a handful of items to help you up your dinner game—give you a head start come 6pm, so you can start cooking in your head on the way home from work. For instance, if you know that you have a tin of anchovies, a hunk of parmesan, and panko bread crumbs, you can pick up fresh kale to make Tuscan Kale "Caesar" Pasta. Or if you have capers, red pepper flakes, and a lemon, you can make Linguine with Quick Chili Oil.
YOUNG READERS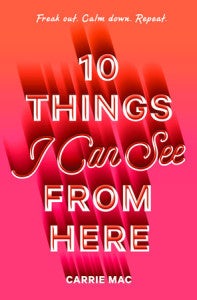 10 THINGS I CAN SEE FROM HERE by Carrie Mac (Knopf Books for Young Readers)
Think positive. Don't worry; be happy. Keep calm and carry on Maeve has heard it all before. She's been struggling with severe anxiety for a long time, and as much as she wishes it was something she could just talk herself out of, it's not. She constantly imagines the worst, composes obituaries in her head, and is always ready for things to fall apart. To add to her troubles, her mom—the only one who really gets what Maeve goes through—is leaving for six months, so Maeve will be sent to live with her dad in Vancouver. Vancouver brings a slew of new worries, but Maeve finds brief moments of calm (as well as even more worries) with Salix, a local girl who doesn't seem to worry about anything.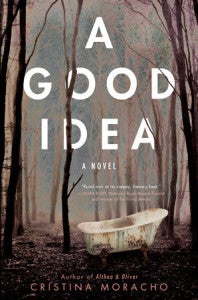 A GOOD IDEA by Cristina Moracho (Viking Books for Young Readers)
Finley and Betty's close friendship survived Fin's ninth-grade move from their coastal Maine town to Manhattan. Calls, letters, and summer visits continued to bind them together, and in the fall of their senior year, they both applied to NYU, planning to reunite for good as roommates. Then Betty disappears. Her ex-boyfriend Calder admits to drowning her, but his confession is thrown out, and soon the entire town believes he was coerced and Betty has simply run away. Fin knows the truth, and she returns to Williston for one final summer, determined to get justice for her friend, even if it means putting her loved ones—and herself—at risk.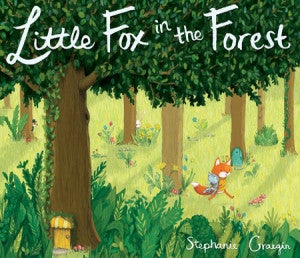 LITTLE FOX IN THE FOREST by Stephanie Graegin (Schwartz & Wade)
When a young girl brings her beloved stuffed fox to the playground, much to her astonishment, a real fox takes off with it! The girl chases the fox into the woods with her friend, the boy, following close behind, but soon the two children lose track of the fox. Wandering deeper and deeper into the forest, they come across a tall hedge with an archway. What do they find on the other side? A marvelous village of miniature stone cottages, tiny treehouses, and, most extraordinary of all, woodland creatures of every shape and size. But where is the little fox? And how will they find him?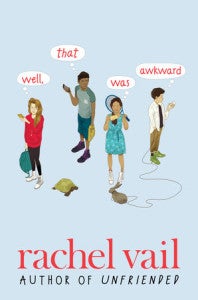 WELL, THAT WAS AWKWARD by Rachel Vail (Viking Books for Young Readers)
Gracie has never felt like this before.  One day, she suddenly can't breathe, can't walk, can't anything—and the reason is standing right there in front of her, all tall and weirdly good-looking: A.J. But it turns out A.J. likes not Gracie but Gracie's beautiful best friend, Sienna. Obviously Gracie is happy for Sienna. Super happy! She helps Sienna compose the best texts, responding to A.J.'s surprisingly funny and appealing texts, just as if she were Sienna. Because Gracie is fine. Always! She's had lots of practice being the sidekick, second-best. It's all good. Well, almost all. She's trying.
Posted: February 27, 2017