On Sale This Week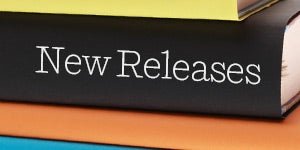 On Sale This Week previews a selection of Penguin Random House fiction, nonfiction, poetry and young readers books being published each week. The choices are a mix of titles by both bestselling and emerging authors. We hope this serves as a useful reference for hot new reads hitting shelves.
FICTION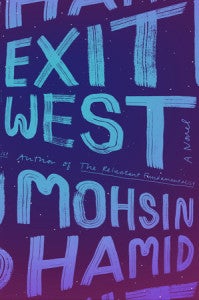 EXIT WEST by Mohsin Hamid (Riverhead Books)
In a country teetering on the brink of civil war, two young people meet—sensual, fiercely independent Nadia and gentle, restrained Saeed. They embark on a furtive love affair, and are soon cloistered in a premature intimacy by the unrest roiling their city. When it explodes, turning familiar streets into a patchwork of checkpoints and bomb blasts, they begin to hear whispers about doors—doors that can whisk people far away, if perilously and for a price. As the violence escalates, Nadia and Saeed decide that they no longer have a choice. Leaving their homeland and their old lives behind, they find a door and step through.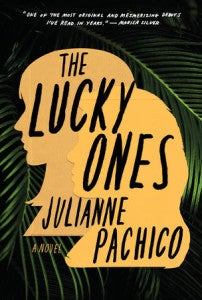 THE LUCKY ONES by Julianna Pachico (Spiegel & Grau)
While her parents are away, a teenager finds herself home alone, with the household staff mysteriously gone, no phone connection, and news of an insurgency on the radio—and then she hears a knock at the door. Her teacher, who has been kidnapped by guerrillas, recites Shakespeare in the jungle to a class of sticks, leaves, and stones while his captors watch his every move. Another classmate, who has fled Colombia for the clubs of New York, is unable to forget the life she left behind without the help of the little bags of powder she carries with her. Taking place over two decades, The Lucky Ones presents us with a world in which perpetrators are indistinguishable from saviors, the truth is elusive, and loved ones can disappear without a trace.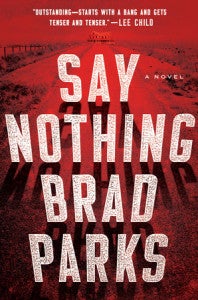 SAY NOTHING by Brad Parks (Dutton)
Judge Scott Sampson doesn't brag about having a perfect life, but the evidence is clear: A prestigious job. A beloved family. On an ordinary Wednesday afternoon, he is about to pick up his six-year-old twins to go swimming when his wife, Alison, texts him that she'll get the kids from school instead. It's not until she gets home later that Scott realizes she doesn't have the children. And she never sent the text. Then the phone rings, and every parent's most chilling nightmare begins. For Scott and Alison, the kidnapper's call is only the beginning of a twisting, gut-churning ordeal of blackmail, deceit, and terror; a high-profile trial like none the judge or his wife has ever experienced.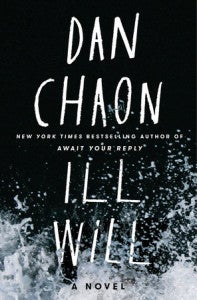 ILL WILL by Dan Chaon (Ballantine)
A psychologist in suburban Cleveland, Dustin is drifting through his forties when he hears the news: His adopted brother, Rusty, is being released from prison. Thirty years ago, Rusty received a life sentence for the massacre of Dustin's parents, aunt, and uncle. The trial came to epitomize the 1980s hysteria over Satanic cults; despite the lack of physical evidence, the jury believed the outlandish accusations Dustin and his cousin made against Rusty. Now, after DNA analysis has overturned the conviction, Dustin braces for a reckoning. Meanwhile, one of Dustin's patients has been plying him with stories of the drowning deaths of a string of drunk college boys. At first Dustin dismisses his patient's suggestions that a serial killer is at work as paranoid thinking, but as the two embark on an amateur investigation, Dustin starts to believe that there's more to the deaths than coincidence. Soon he becomes obsessed, crossing all professional boundaries—and putting his own family in harm's way.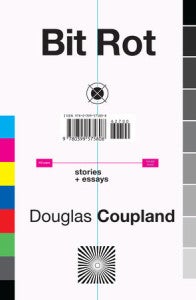 BIT ROT by Douglas Coupland (Blue Rider Press)
BIT ROT is a fascinating meditation on the ways in which humanity tries to make sense of our shifting consciousness. Coupland, just like the Internet, mixes forms to achieve his ends. Short fiction is interspersed with essays on all aspects of modern life. The result is addictively satisfying for Coupland's established fanbase hungry for his observations about our world, and a revelation to new readers of his work. For almost three decades, his unique pattern recognition has powered his fiction, his phrase-making, and his visual art. Every page of Bit Rot is full of wit, surprise, and delight. Reading Bit Rot feels a lot like bingeing on Netflix…you can't stop with just one.
NONFICTION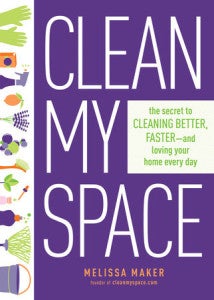 CLEAN MY SPACE by Melissa Maker (Avery)
Melissa Maker is beloved by fans all over the world for her completely re-engineered approach to cleaning. As the dynamic new authority on home and living, Melissa knows that to invest any of our precious time in cleaning, we need to see big, long-lasting results. So, she developed her method to help us get the most out of our effort and keep our homes fresh and welcoming every day. In her long-awaited debut book, she shares her revolutionary 3-step solution. With Melissa's simple groundbreaking method you can truly live in a cleaner, more cheerful, and calming home all the time.SEE LESS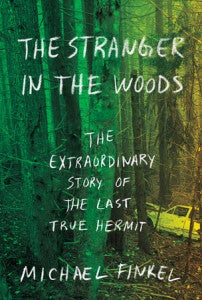 THE STRANGER IN THE WOODS: The Extraordinary Story of the Last True Hermit by Michael Finkel (Knopf)
In 1986, a shy and intelligent twenty-year-old named Christopher Knight left his home in Massachusetts, drove to Maine, and disappeared into the forest. He would not have a conversation with another human being until nearly three decades later, when he was arrested for stealing food. Based on extensive interviews with Knight himself, this is a vividly detailed account of his secluded life—why did he leave? what did he learn?—as well as the challenges he has faced since returning to the world. It is a gripping story of survival that asks fundamental questions about solitude, community, and what makes a good life, and a deeply moving portrait of a man who was determined to live his own way, and succeeded.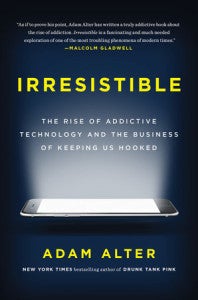 IRRESISTIBLE: The Rise of Addictive Technology and the Business of Keeping Us Hooked by Adam Alter (Penguin Press)
Welcome to the age of behavioral addiction—an age in which half of the American population is addicted to at least one behavior. In this revolutionary book, Adam Alter, a professor of psychology and marketing at NYU, tracks the rise of behavioral addiction, and explains why so many of today's products are irresistible. Though these miraculous products melt the miles that separate people across the globe, their extraordinary and sometimes damaging magnetism is no accident. The companies that design these products tweak them over time until they become almost impossible to resist.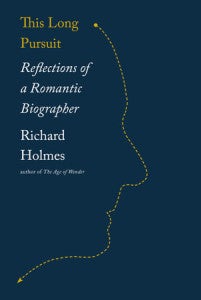 THIS LONG PURSUIT by Richard Holmes (Pantheon)
In a book that ranges widely over art, science, and poetry, Richard Holmes confesses to a lifetime's obsession with his Romantic subjects. It has become for him a pursuit, or pilgrimage of the heart, that has taken him across three centuries, through much of Europe, and into the lively company of many earlier biographers. Central to this quest is a powerful and tender evocation of the lives of women both scientific and literary, some well-known and some almost lost to history. Holmes also investigates the myths that have overshadowed the lives of some favorite Romantic figures: the love-stunned John Keats, the waterlogged Percy Bysshe Shelley, the chocolate-box painter Thomas Lawrence, the opium-soaked genius Samuel Taylor Coleridge, and the mad visionary bard William Blake.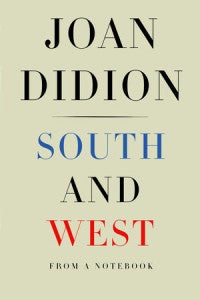 SOUTH AND WEST by Joan Didion (Knopf)
Joan Didion has always kept notebooks: of overheard dialogue, observations, interviews, drafts of essays and articles–and here is one such draft that traces a road trip she took with her husband, John Gregory Dunne, in June 1970, through Louisiana, Mississippi, and Alabama. She writes about the stifling heat, the almost viscous pace of life, the sulfurous light, and the preoccupation with race, class, and heritage she finds in the small towns they pass through. And from a different notebook: the "California Notes" that began as an assignment from Rolling Stone on the Patty Hearst trial of 1976. Though Didion never wrote the piece, watching the trial and being in San Francisco triggered thoughts about the city, its social hierarchy, the Hearsts, and her own upbringing in Sacramento. Here, too, is the beginning of her thinking about the West, its landscape, the western women who were heroic for her, and her own lineage, all of which would appear later in her acclaimed 2003 book, Where I Was From.
POETRY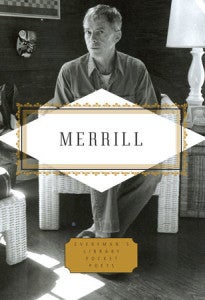 MERRILL by James Merrill (Everyman's Library)
James Merrill once called his body of work "chronicles of love and loss," and in twenty books written over four decades he used the details of his own life–comic and haunting, exotic and domestic–to shape a portrait that in turn mirrored the image of our world and our moment. Like Wallace Stevens and W. H. Auden before him, Merrill sought to quicken the pulse of a poem in surprising and compelling ways–ways, indeed, that changed how we came to see our own lives. Years ago, the critic Helen Vendler wrote of Merrill, "He has become one of our indispensable poets." This volume brings together an entirely new pocket-sized selection of the best of Merrill's work. His poetry dazzles at every turn, and this balanced and compact selection will be an ideal introduction to the work for both students and general readers, and an instant favorite among his familiars.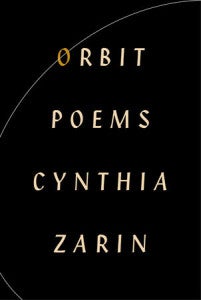 ORBIT by Cynthia Zarin (Knopf)
In this, her fifth collection, Zarin turns her lyric lens on the worlds within worlds we inhabit and how we navigate our shared predicament—the tables of our lives on which the news of the day is strewn: the president speaking to parishioners in Charleston, the ricochet of violence, near and far. Whether writing about hairpin turns in the stair of childhood, about the cat's claw of anxiety, on the impending loss of a young friend, or how "love endures, give or take," here is the poet who, in the title poem, "bartered forty summers for black pearls" and whose work is full of such wagers, embodied in playing cards, treble notes, snow globes, and balancing acts. Zarin reminds us that the atmosphere created by our experiences shapes and defines the orbit we move through.
YOUNG READERS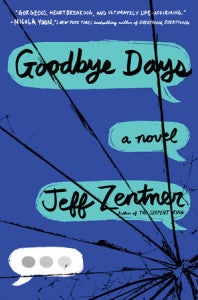 GOODBYE DAYS by Jeff Zentner (Crown Books for Young Readers)
Carver Briggs never thought a simple text would cause a fatal crash, killing his three best friends, Mars, Eli, and Blake. But now Carver can't stop blaming himself for the accident and even worse, a powerful judge is pressuring the district attorney to open up a criminal investigation. Luckily, Carver has some unexpected allies: Eli's girlfriend, the only person to stand by him at school; Dr. Mendez, his new therapist; and Blake's grandmother, who asks Carver to spend a "goodbye day" together to share their memories and say a proper farewell. Soon the other families are asking for their own goodbye day with Carver—but he's unsure of their motives. Will they all be able to make peace with their losses, or will these goodbye days bring Carver one step closer to a complete breakdown or—even worse—prison?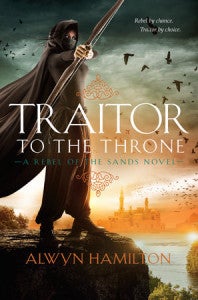 TRAITOR TO THE THRONE by Alwyn Hamilton (Viking Books for Young Readers)
Mere months ago, gunslinger Amani al'Hiza fled her dead-end hometown on the back of a mythical horse with the mysterious foreigner Jin, seeking only her own freedom. Now she's fighting to liberate the entire desert nation of Miraji from a bloodthirsty sultan who slew his own father to capture the throne. When Amani finds herself thrust into the epicenter of the regime—the Sultan's palace—she's determined to bring the tyrant down. Desperate to uncover the Sultan's secrets by spying on his court, she tries to forget that Jin disappeared just as she was getting closest to him, and that she's a prisoner of the enemy. But the longer she remains, the more she questions whether the Sultan is really the villain she's been told he is, and who's the real traitor to her sun-bleached, magic-filled homeland.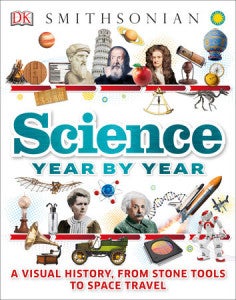 SCIENCE YEAR BY YEAR by DK (DK)
Easy-to-follow illustrated timelines of pivotal scientific developments explore the ideas, experiments, and technologies that have shaped our daily lives over the past 3 million years. With more than 1,200 images, in-depth explanations of key inventors and innovations, quotes from groundbreaking scientists like Marie Curie, and stunning "moment in time" images of key events such as the first human landing on the moon, kids are sure to be amazed on every page. Young readers can learn about the early understanding of gravity, the discovery of dinosaur fossils, the first open heart surgery in human history, and much more.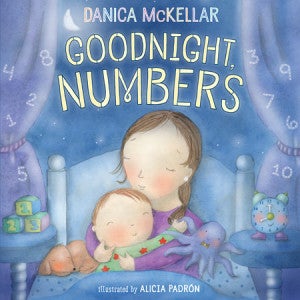 GOODNIGHT, NUMBERS by Danica McKellar, illustrated by Alicia Padron (Crown Books for Young Readers)
This deceptively simple bedtime book gives your child the building blocks for math success. As children say goodnight to the objects all around them—three wheels on a tricycle, four legs on a cat—they will connect with the real numbers in their world while creating cuddly memories, night after night. Actress, math whiz, and New York Times bestselling author Danica McKellar uses her proven math success to show children that loving numbers is as easy as 1, 2, 3.
Posted: March 6, 2017